It's important for any competitive brand that plans on remaining relevant to stay aware and on top of emerging trends within their industry. A large aspect of this involves staying up to date on the ever-evolving visual landscape we find ourselves enveloped by. To cut through this overgrown jungle of visual noise it's important to not just note and acknowledge these changes in our visual language, but to adjust and adapt with them. Otherwise, we run the risk of fading from view.
Here at G/L we are vigilantly on watch with creative syringes prepped to inject a booster of smart, relevant and modern design trends into work for our clients, ensuring a competitive edge within their respective fields. But don't take my word for it. There are numerous articles discussing current design trends around the world. Below we highlight some of these trends and how we have incorporated them into our most recent work.
Multiple Brand Color Schemes / Unconventional Colors
By choosing multiple vibrant and unexpected color schemes for a brand they have an easier time standing out. An example of this practice is best shown in our recent work for Cottey College, an all-women's college located in Southern Missouri. By leveraging bold, full-floods of color, Cottey has developed a strong, visually modern brand for their school.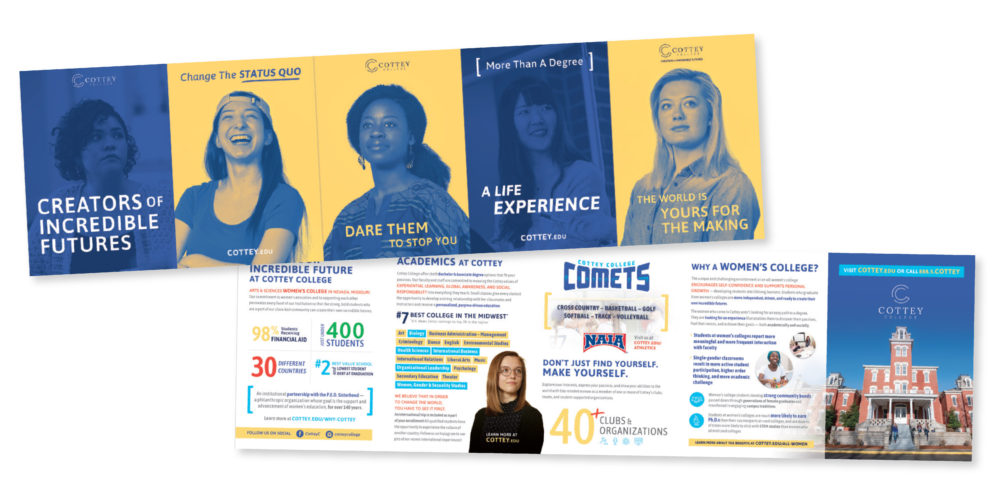 Color Gradients / Bold & Handwritten Fonts
Being raised from the nostalgic grave by the likes of brands such as Instagram, the use of striking color gradients as well as bold, dramatic handwritten fonts has also been on the rise this year. These elements are both represented in our work for our client Upper Iowa University.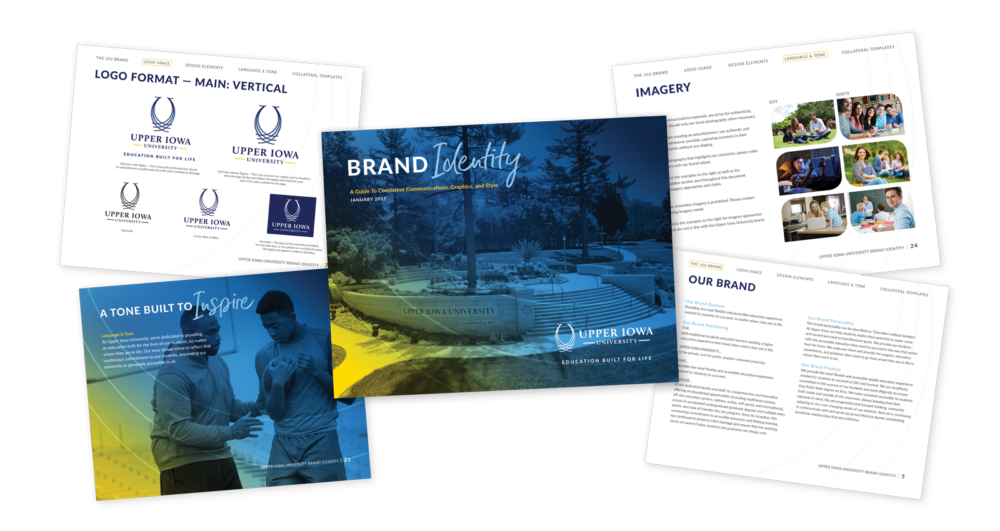 Custom Illustrations / Branded Gifs
As brands continue to look for further ways of differentiating themselves, we've seen a trend in design toward more unique and "ownable" illustrations as well as use of playful animations and branded gifs. We used this approach when rebranding Pretium Packaging. During the process of a brand refresh, we heavily leveraged the unique look of their blue-print line drawings in order to visually tell their story of concept to final production of custom bottles, differentiating them further from other plastics companies.


If you're looking to get ahead of the curve on design that will carry you and your brand into the future, send us a line. We've got the design smarts that are up to date and the design skills that are up to snuff. And if you are interested in more eye-candy, check out the rest of our work here.
Source Article: https://venngage.com/blog/graphic-design-trends/