Hello readers. I'm Robert Mews, the new guy at G/L (a.k.a. the digital marketing strategist). This is my second week at G/L, and the final piece of my initiation is writing this blog post. I decided to talk about cloud computing, because it is a topic near and dear to my heart. I just purchased a home server that allows me to access all of my personal content from anywhere that I have Internet access in the world. I also use Dropbox for some of my files. It's a pretty sweet deal, especially when you have a personal laptop, work laptop, iPhone and iPad, like I do.
The benefits of cloud computing are great. Easy access to files on the go. All your content syncs between devices. No more recording files to thumb drives, CD's, or emailing yourself the file. That process was a headache, and I'm glad to leave that behind.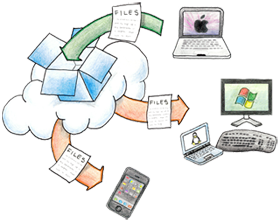 Businesses also stand to gain from cloud computing. More employees are mobile and more will be in the future. Which means business leaders need to give employees a cheap and effective way to share documents. The advantages for businesses are that most cloud computing services are cheaper than enterprise solutions.
However, there are two problems with cloud computing. One is the security risk. If your content is accessibly from an Internet connection, it's possible that someone could hack into your files and do some damage. I'm sure the cloud computing community is making sure that doesn't happen, since their business relies on peace of mind and convenience.
The other problem has been an explosion of these cloud computing services, and more confusion lies in the difference between the B2B and B2C services. As a consumer or business leader, how do you choose between all the services? Who has brand recognition? I think we're getting past the cloud computing 'education' period and finally into the period where people are starting to use these services. It's an important time to think about gaining brand recognition.
The only way these cloud computing services survive is if they develop a smart marketing strategy. I gravitated toward the Dropbox service because they gave me more space for conducting small tasks. I'd get free space if I watched a video demo. Then I'd get more free space if I shared the Dropbox service via Facebook or Twitter. As a business leader of the cloud computing service, you should be thinking about how to incorporate smart ways to expand your service and gain valuable name recognition. Dropbox is a leader because of it's way of incorporating game mechanics (do this task to gain more space) and social sharing (share us for more free space). Who will emerge as the leaders is yet to be decided. I think we'll see more heavy marketing by these services in the near future.
I welcome your comments and look forward to talking more about digital marketing with you in the future.
Artwork courtesy of Dropbox.