The Associated General Contractors of St. Louis, a client of St. Louis PR Agency Geile/Leon Marketing Communications, released results of a two-year study today on the local construction industry workforce. Two major challenges are on the horizon; a future shortage of skilled craftworkers and a profound lack of women and minorities joining the construction trades.
New Study Points to Challenges Facing St. Louis Area Construction Industry
Three leading industry groups calling for action to address workforce and business development issues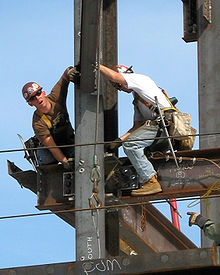 ST. LOUIS, MO (June 9, 2011) — Results of a two-year research project focusing on St. Louis' construction industry workforce and business reveals critical challenges facing an industry that contributes more than $2.5 billion to the area's economy. Chief among them are the facts that skilled construction craft workers will be retiring faster than they can be replaced, and that the industry as a whole has failed to attract the numbers of minority and female workers that are reflective of our overall metro regional workforce. The development of minority, women, and disadvantaged business enterprises is also lagging.
Results of the study, which was conducted by the Public Policy Research Center at the University of Missouri-St. Louis, and sponsored by the Associated General Contractors of St. Louis, the St. Louis Minority Supplier Development Council, and the St. Louis Council of Construction Consumers, were presented today to several St. Louis construction industry leaders including construction business owners, labor leaders, educators, governmental officials, and minority/women business and community leaders.
"A major reason for conducting this study was to get an accurate assessment of the success or failure of efforts over the past 50 years to build a construction business climate that reflects our regional demographics, and to entice young people including minorities and women into the construction field and into construction business ventures," said Len Toenjes, President, Associated General Contractors (AGC) of St. Louis.
"While the study shows a clear racial/gender gap in the local construction workforce, it also provides us with a call to action to address this challenge in new and more meaningful ways."
That racial/gender gap is clearly defined by these critical findings:
7% of the St. Louis area construction workforce is comprised of non-Caucasian males
12% of the St. Louis area construction workforce is female (includes office and clerical workers)
81% of the St. Louis area construction workforce is comprised of white males
And it's not just a lack of minorities and females in the local workforce that poses a challenge to the St. Louis construction industry. A future workforce supply gap is looming on the horizon. According to the study, for all the workers who were in the St. Louis metro area construction workforce in 2007, nearly one-quarter are projected to retire by 2017.
"Community development will take a serious hit if we are unable to infuse the construction workforce with skilled craft workers in the future," said Dennis Lavallee, CAE, President, St. Louis Council of Construction Consumers. "That's how important a robust and healthy construction industry is to the overall economic health of the St. Louis region."
James Webb, President and CEO, St. Louis Minority Supplier Development Council, agrees with both the workforce findings and the business development aspects of the research. "Minority-owned firms traditionally have been at a disadvantage in terms of having access to capital. While this survey clearly defines the serious challenges facing our industry, it also provides an excellent opportunity for our organizations to work with business and community leaders to develop solutions that will positively impact the entire community."
The study results have established a benchmark from which future workforce and business development initiatives can now be identified and developed. All 3 sponsoring organizations today proposed that a "Construction Task Force" be created, which would include all construction and community groups, and would be responsible for establishing best practices to address these challenges.
The task force would be made up of purchasers of construction services, contractors, subcontractors, minority/women business leaders, labor representatives, and training providers, as well as civic and community leaders. "The time to act is now," says Toenjes. "The future of the local construction industry depends on all segments of the business community working together to find real solutions that in the end not only benefit our industry, but the economic well-being of the entire metropolitan area."