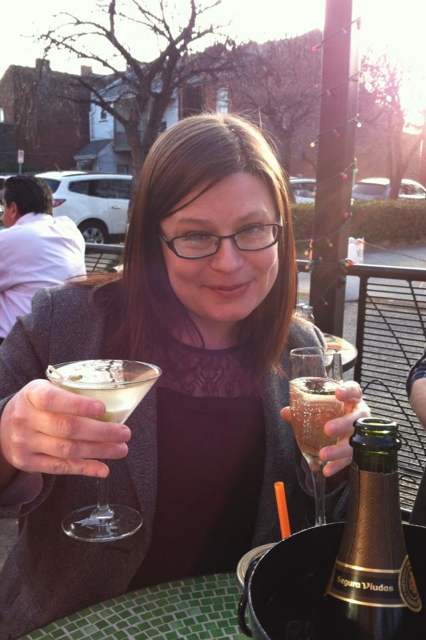 There are always times when you know something is a perfect fit. This past month, we welcomed another G/Ler to the team here and the signs of an ideal match couldn't be more clear.
Previously at RubinBrown, Anne-Marie Vaughan brings her left-brain mindset and organization to her new role as business manager and controller. We knew she was going to be a great fit for G/L, and from a young age, Anne-Marie knew numbers and accounting were a good fit for her. "When I was a kid and did chores for my allowance, I'd submit an itemized invoice to my parents for the work that I did." Starting young is a good way to get into good habits, but for Anne-Marie, it gets even better. "They never actually asked me for one."
After spending the first eight years of her childhood in Juneau, Alaska, Anne-Marie moved down to St. Louis and the temperamental climates of the Midwest. Her and her husband, Patrick, have lived in Overland for about eight years now and always enjoy good food, good cocktails and good friends. As an employee of Coolfire Media, Patrick introduced her to the local ad scene years ago but between her husband's job and G/L she says, "I've yet to be on any two martini lunches." No sign of Don Draper either.
As Geile/Leon's business manager and controller, Anne-Marie's responsibilities include overseeing the agency's accounting, billing, human resources and employee benefits. A licensed Certified Public Accountant (CPA), Anne-Marie joins G/L with 10 years of accounting experience, including the last year and a half with RubinBrown LLP. Prior to that, she spent eight years with Bank of America Home Loans, during which time she earned her B.S. degree in Accounting from the University of Missouri-St. Louis.
Away from the agency, Anne-Marie has a very unique passion and hobby. "In 2006, my friend and I had been thinking of taking a yoga class together, but ended up doing roller derby instead." Both a physically and mentally demanding activity, roller derby has a bigger connection to yoga than you may have thought. "I find a deep inner strength in roller derby that has helped me achieve goals I might not have set for myself otherwise. Not only that, I've learned a lot because of it over the years that's helped me in my professional and educational careers."
Working at G/L is all about making it mean something and for Anne-Marie, "it's about doing what I do best in an environment that makes me happy." Needless to say, she fits right in.

Beer-Thirty Drink of Choice: Pabst Blue Ribbon