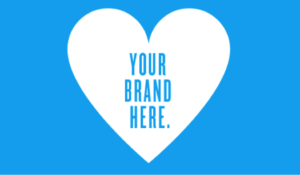 Do you remember that feeling? Blood rushing, heart racing, experiencing emotions that you just can't put into words? From that moment forward, you know that there's no substitute for what has just come into your life. Friends may brag about what they have, but you know that yours is far superior. Nothing else could possibly compare. Yep, you're in love…with a product.
Ok so it may not be quite that intense, but we've all had that experience where we know the next time we go to a store, we're buying a certain brand. And if our friends ask, we're telling them to buy it too. It goes beyond customer satisfaction to a belief, a passion, an advocacy.
Brand advocates are arguably the best advertisement for your company. People may not believe a commercial, but they're very likely to trust the opinion of someone impartial who had a positive experience with your products. These are the people driving new customers to your doors, leaving positive reviews on your website and buying your products over, and over, and over again.
So how do you turn a customer into an advocate? Well one way is to hire an outstanding advertising agency to create work that promotes brand advocacy. Ok, so just a little shameless self-promotion, but in all seriousness it takes a special approach to prompt people not only to act, but to talk. We recently had to tackle this issue with an ad we produced for Metro Imaging. You can watch the ad here.
So did you notice something about the video? I mean, besides all the great things that Metro Imaging has to offer its clients (plug plug). Everyone was on the phone. They were telling their friends, spreading the word, advocating.
Of course that's nice in theory, but did it work? Here's just one example of quotes we got from a patient satisfaction survey after running the ad:
"I was greeted and signed in immediately upon entry. My wait time was very short. Everyone that I encountered was very nice, professional and efficient. Before scheduling the MRI, I called two other facilities and Metro Imaging was the lowest in price. I will refer any friends or family members to Metro Imaging in the future."
Bingo. We encouraged telling friends, Metro Imaging delivered a good experience and just like that we had a brand advocate. It's not easy, and it's not guaranteed, but here are some quick tips to help you garner brand advocates in the future:
Have a Great Product and Better Service
If you don't have a product you believe in and service and support that outshine your competitors, than garnering brand advocates is a pretty fruitless endeavor. I mean, if you don't believe in what you're doing and why you're doing it, then why should your customers? And the people interacting with your customers through service and support should be your biggest brand advocates of all. This can be achieved with some strong internal branding and communication. Look for more on that from us in the coming weeks…
Facebook Likes and Twitter Followers Don't Equal Advocates
Running a contest or promotion to build your likes and followers can work for some people, but you should know that according to a report by exacttarget.com, over 25% of the base you build through that promotion will leave immediately after the contest ends. Instead of counting likes and followers from a contest, pay attention to the people commenting on and liking your page unsolicited. With a little follow-up and attention, these people can quickly become true fans.
Keep People Involved
Whether it's through social media, an active blog or even direct mail, once you've identified people who are fans of your brand, keep in touch. Sites like Facebook, Twitter and Google+ are great for connecting with your audience, but make sure the conversation isn't one-sided. Reply, interact and listen to the people you're connected with instead of just frequently posting content. Another very effective way to garner brand loyalists is through a brand loyalty program. Here's an example of one that we created for Rebel Yell. This encourages people to buy your product repeatedly while rewarding them for being loyal. This campaign, and similar ones we've done in the past, have been very successful at both encouraging interaction with fans and boosting repeat sales.
 Post Interesting Content
Sounds simple doesn't it? But in reality, The Social Habit's most recent report indicates that only 33% of social media users follow brands. The biggest reasons cited are that they "spam" and they don't post relevant content. So what's relevant? Discounts, promotions and coupons still reign supreme followed by content, ideas and information on new products. Give people a reason to stay connected and they will. Best of all, they'll tell their friends.