Stephen Kennedy is a good friend of ours, who we have known and worked with for over 30 years. He specializes in creating environmental portraits and corporate photo libraries all over this country. And for that matter, the world. As Stephen told me, "My camera has always been my passport." 
Nobody can capture people, their personality, and character like Stephen does. What I've always admired about Stephen is his ability to adapt and stay relevant in this changing creative and marketing landscape. All of us marketers could learn about the importance of storytelling from Stephen. Especially considering his newest take told in his latest endeavor, Cross Country Camera.
He stopped by our offices on the Hill a few weeks ago and shared some details with us. Cross Country Camera is a 50-state project.  Stephen tells the stories of individual artists by photographing them where they are creating their work or where their work exists. To date, he has photographed 60 artists and just hit the milestone of finishing his 30th state.
For each of the artists, he is creating a documentary photo essay, telling their story visually in these multi-page, beautifully designed portfolios.  Stephen truly captures the artistic spirit of each subject through their interaction with their environment and their creation of their art, giving you a glimpse inside the artist. You can't put one of these portfolios down because they are so captivating.  We have 5 of these portfolios on the coffee table in our lobby, and people can't help but pick them up and page through them.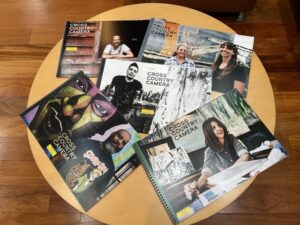 Stephen believes these documentary photo essays bring visual storytelling to a new level and allow him to showcase all of his experiences and abilities – artistry, craftsmanship, travel, and adventure. I couldn't agree more.
Check out his website at www.crosscountrycamera.com to learn more about his photographic services and see all of the artists highlighted in Cross Country Camera.