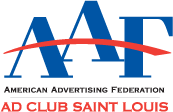 On October 13, 2011, the St. Louis Ad Club is putting on the 1st annual Creative  Symposium… Creative Symposi-what? The Creative Symposium is an in-depth professional development opportunity for those involved in all aspects of marketing communication, especially the creative types. This event will feature presenters from the industry's top-flight agencies—discussing topics from both traditional and emerging media, along with plenty of Q&A.
Who are these renowned presenters from "top-flight agencies" giving away behind the scenes tactics, you ask?
Dayna Dion, Partner, Cultural Strategy Director with Ogilvy-Chicago, the largest advertising agency in the world, will present their work from an international campaign for Kimberly-Clark's product "Kotex." Dion will highlight strategic research which lead to the creative for campaigns in Australia, Southeast Asia and North America.
John January, Executive Creative Director at Sullivan, Higdon and Sink, and Tug McTighe,Vice President, Creative Director at Callahan Creek will present, "Jedi Copywriter or Everything I Need to Know about Advertising I Learned From Star Wars." January and McTighe are friends and co-workers and are known for hosting American Copywriter, one of the first and most popular advertising themed podcasts.
Sean Donohue is currently the Vice President Directive Director of Threadless.com. The designs on Threadless products are sourced from ongoing open-call for submissions from a worldwide community of artists and designers. Once submitted, the community of over 1 million members casts votes that help decide which designs go on Threadless t-shirts.
This is a rare opportunity to inspire agency people outside the agency with insight from some of our industry's greatest thought leaders.
"We are excited to bring this professional development opportunity to Ad Club members and others in the metro area interested in learning more about the creative process and how it works for award winning communicators.  By providing this type of teachable moment for our audiences, the Ad Club continues to fulfill its mission of increasing awareness, providing education and inspiration which fosters and celebrates advertising," says Ad Club president, Tim Leon.
Kick off and check in for the Creative Symposium will begin at 11:00; with lunch served in the Sheldon's third-floor Louis Spierling room at 11:30. Speakers will begin at 12:30. And we'll cap off the night in typical Ad Club fashion with happy hour from 5:00 to 6:30. The Sheldon is located at 3648 Washington Boulevard.
Early bird pricing is available for this informative event: Ad Club members $70; $85 for non-members and $40 for students and educators. After September 19, 2011, pricing for each category is an additional $10. A special group discount is available for the fourth employee when the three employees attend the event.
This is the event of a lifetime, or at least till the 2nd Annual Creative Symposium. So reserve your spots now. For more information, or to make reservations, contact Nan Hartley at [email protected] or call (314) 231-4185.