Since the start of the pandemic, millions of people worldwide have found themselves trying to kill time during quarantine, yearning to connect with people both inside and outside their front door. Some families needed an outlet to be together with each other that would allow them to have fun, and other individuals wanted an avenue of creative flow.  
Enter TikTok. 
TikTok is a social media app for video shorts where users can create short dances, lip-sync to their favorite movie quotes, show off their talents, and be funny. It's free for all to use and easy to start creating content.
And while the platform itself doesn't release user data, outside firms have been keeping their eye on its user base. And what they're finding is that it's substantially grown since the outbreak of COVID-19. In fact, TikTok has generated "the most downloads for any app ever in a quarter" in Q1 2020, according to the app analytics firm Sensor Tower.
A Shift In Audience
Since TikTok was first released in August 2016, its popularity really exploded among young Americans and around the world. According to the most recent Comscore data provided to Adweek, US users 18 and older brought in 22.2 million unique visitors in January, 23.2 million in February, and 28.8 million in March. Then in April, the number skyrocketed to 39.2 million. But it seems as though those numbers are primarily coming from the Millennial demographic. TikTok's GenZ audience grew by nearly 5 million unique visitors from January to April, but it's just that the Millennial demographic is growing at a faster rate during quarantine.
In January, there were fewer than 5 million American Millennials (ages 25-34) on the app. In April, there were nearly 11 million.
The percentage of U.S.-based TikTok users aged 18-24 fell 5.8% from January to April. During that same time period, the share of 25- to 34-year-olds rose 5%, and the 35-44 demographic grew 3.2%. With content creation in the social media app on the rise, the need for followers and fame has also led to people trying to scourge for a 'get TikTok followers app', even among the older demographic.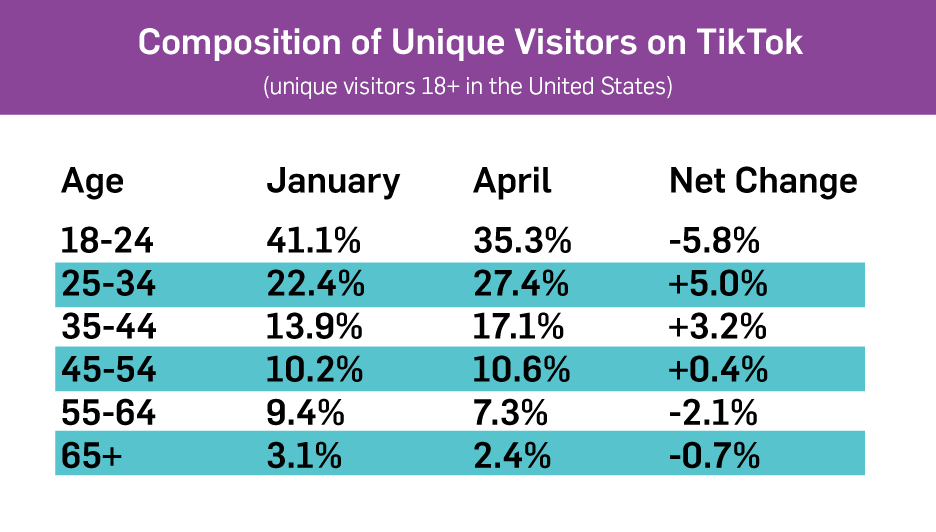 While the app creators most likely see the expanded user base as a positive, advertisers may not see it as such.
Why Advertisers are Sweating
There's a lot of unknown about how the shift in demographics and overall expansion of users on TikTok will affect the long-term for marketers, but some believe it will present obstacles. 
"Targeting is still fairly limited on TikTok, so as the audience becomes more diverse, you can open yourself up to a lot of waste," Melanie Nelson, associate director at The Media Kitchen, told Adweek. "We've also seen TikTok increase their prices pretty substantially quarter over quarter, which makes total sense. They have a broader audience that they can put in front of advertisers."
In fact, according Adweek:
The platform's sponsored hashtag challenge went from $120,000 in Q4 2019 to $180,000 in Q1 2020, a 50% increase quarter over quarter. In that same period, TikTok's brand takeover product, where a brand's ad appears first on all TikTok users' screens when they open the app, went from $70,000 to $100,000, according to one media buyer, who spoke on the condition of anonymity.

Citation: AdWeek
As marketers and businesses see a depletion and cancellation of their ad budgets across countless industries, this increase in cost for paid campaigns on TikTok with wasted spending by not having a more targeted audience build, TikTok may see many advertisers pull their advertising support.
Just like spending just for the sake of spending isn't wise, targeting a platform just because it's growing quickly would be a failure to consider the full wealth of data available to marketers. And that's not to say TikTok is a bad play or a good play! But it would be wise for anyone budgeting what is likely now a limited digital marketing spend would be wise to fully consider what is effective rather than what is popular. 
Luckily, we have decades of experience determining strategies and watching trends come and go. Get in touch and we'll determine how to maximize the effectiveness of your digital marketing plan.