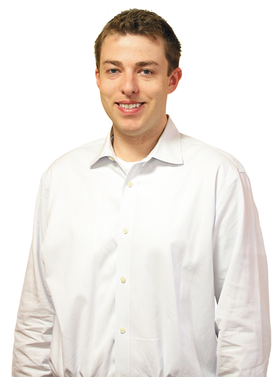 Geile/Leon Marketing Communication's newest team member, Robert Mews, Senior Digital Marketing Strategist, was recently featured in the St. Louis Business Journal's "New in Town" section. Robert hails to us from the great state of Minnesota, where he was an eMarketing Manager for Minneapolis-based Grocery Shopping Network and previously worked  at the agency MRM Worldwide.
Robert is revolutionizing the G/L approach to Digital Marketing by integrating our branding expertise with new digital technology and data-driven insight that offers clients more ways to expand their brand. Robert tailored our Digital Approach to be more effective and measurable by including ongoing features like:
Competitive Intelligence
Deep Audience Research
Benchmarking and Best Practices
ROI Forecasting
So while Mews still may need some convincing when it comes to wearing a Cardinals jersey, Robert is fitting in swimmingly at G/L. He has opened all of our eyes to the possibilities Digital Marketing has to offer. We are excited to put Robert's expert skills to work helping our clients reach new markets and expand their campaigns more effectively.
The new Digital Suite will offer: