As a Creative Director and owner of my own marketing communications agency, I had the pleasure of being asked to be an advisor to a new start up organization. The win-win-win factor behind this nonprofit concept is fantastic. It is a nonprofit set up to help other nonprofits with marketing, advertising, and promotional materials—with a dual benefit allowing young professionals the opportunity to network and get some real world experience. The organization is called Ready and Willing, and this is how it works.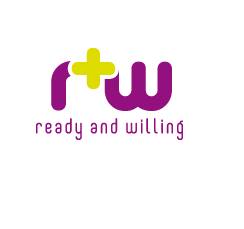 First of all, as we all know, most nonprofits are living on a shoestring. Money is tight, and what is spent is done sparingly. But, they need marketing and communication materials to spread the word about their services and solicit donations and volunteers. Secondly, there are hoards of young advertising and marketing professionals out there looking to make their mark on the ad industry, trying to build their portfolios and launch their careers. This is where Ready and Willing comes in. They build a membership list of these nonprofit organizations and match them up with a team of young art directors, writers, and account service people. But you may ask, "Hey Dave, you mean you plan on turning a bunch of green creatives loose on innocent unsuspecting nonprofits?" "Waddaya NUTS! Where's the quality control?" Glad you asked. Here's the twist.
Ready and Willing will also host a group of member Mentors to help steer, guide and instruct these over-hormoned, zealous ad people to insure the work is on strategy, on message, and the creative is something to be proud of. This is the third win. These seasoned professionals that range from Creative Director level to agency owner types will be able to give back to the community with the very skills they have honed over the years, while also helping to mold young talent. Plus, they get to network within this group of "up and coming" talent, possibly recruiting for their own shops or scouting freelance assistance.
It's that simple. Ready and Willing. Win, Win, Win. And aside from a small member contribution to participate, the work is all free of charge. Check them out if you are interested in helping out, networking and building your book at the same time.
Along with being on the Board of Directors with Ready and Willing, David Geile is Creative Director and Managing Partner of Geile/Leon Marketing Communications. G/L is a convergence agency specializing in Brand Development, Strategic Positioning, Interactive Marketing, and SEO strategy.