Last year, there was no shortage of surprises, new features and time in the national spotlight when it came to social media's influence in politics. Cough, Russia. In 2018, we can expect to see the social media relationship between brands and consumers continue to evolve and affect the way we connect and engage with one another. Here are 5 social media trends to consider for your strategy in 2018:
Shifting Demographics
Brands need to be mindful of shifting demographics and behaviors among Millennials and Gen Z. At least 40% of Millennials already have children, and that rate will continue to climb throughout 2018. These monumental milestones mean major lifestyle changes for Millennials and major sales category shifts and opportunities for brands. We break down how to communicate with Millennial parents here.
As for Gen Z, according to a recent Goldman Sachs study, the young, influential generation is predicted to be a driving force both organizationally and economically. In fact, the oldest Gen Zers are now 22 years old and are beginning to enter the workforce, which in turn will increase their purchase power. As true digital natives, Gen Zers heavily rely on connectedness and communication through platforms including SnapChat, YouTube, Instagram, Facebook and WhatsApp. While 47% of Gen Zers say they love SnapChat, don't throw all your resources into one platform. Gen Zers, much like Millennials respectively, gravitate towards authenticity and relevancy and prefer communicating on other platforms such as Instagram or email. More on communicating with Gen Z here.
AR/VR Advances
As AR and VR technology continues to advance and become more accessible, brands may consider adopting the technology into their social media strategy and overall marketing plans. While only a mere 8-11% of marketing professionals are utilizing the technology, up to 26% of marketers say they would like to incorporate the technology into their marketing strategy over the next few years, according to Business Insider.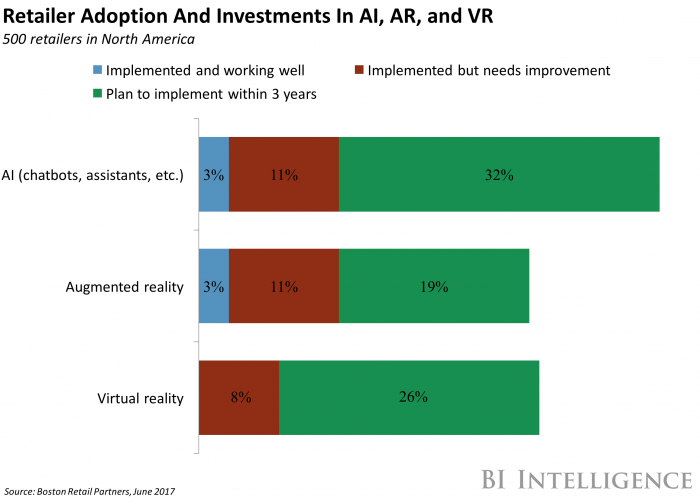 Regulations and Governance
After a series of controversial discoveries of Russian meddling during the 2016 presidential election, both Facebook and Twitter have adopted new policies governing conduct on their platforms.
Just last month, Facebook announced that it intends to change the filter of the News Feed to emphasize more meaningful social interactions between friends and family—not publishers. As a result, users will see less public content, including news, video and posts from brands.
Additionally, Facebook will take a series of steps to bring Facebook ads to a higher level of transparency by allowing users to view ads a Page is running on Facebook, Instagram and Messenger — whether or not the person viewing is in the intended target audience for the ad, as well as increased requirements for authenticity from advertisers, particularly political advertisers.
Twitter announced it intends to launch an advertising transparency center that discloses information about all ads running on its platform. Additionally, it would ban Kremlin-funded, English-language media outlets RT and Sputnik from advertising on Twitter.
Chatbots
This year we can expect more brands to invest in chatbots, as well as AI and voice assistants. Chatbots will continue to enable brands to offer real-time assistance via messenger apps like WhatsApp, Messenger and Kik, in addition to providing a more personalized shopping experience on site. Gartner predicts that chatbots may handle 85% of all customer interactions by the year 2020.
Live Streaming
Considering Facebook's recent News Feed announcement, brands will have to look to creative alternatives for organic page content such as live streaming. Good news for brands, according to Live Stream, 82% of audiences prefer live video to traditional, written posts. Additionally, users are likely to spend three times longer watching live video as opposed to pre-recorded.