Unanticipated positive PR/marketing should be embraced by your brand. Hardee's did just that when Facebook user David Yardley posted a moving photo to the Hardee's Facebook timeline.
"The attached photo is one I took on Saturday July 11, 2015 at Hardee's on Tazewell Pike. It just really was a kind moment to witness between your worker and a elderly lady. I came through the drive through and went across the street and just happened to look over at Hardees as I pumped my gas and happened to see this as it took place. Your worker had been cleaning the glass I assume when the customer, the elderly lady started out to her ride. He stopped what he was doing and took her by the hand and helped her across the sidewalk and parking lot to her ride.


It just really spoke to me, I guess since so much negative media lately has been around the race card. Black and white, young and old all come together in this picture. I watched as he continue to help her until she was in the car and left. I admire this young man and appreciate his kindness."
It was a simple gesture of compassion, chivalry and respectfulness that was caught on camera. David Yardley did not expect the wave of overwhelming positive support his simple photo would receive. Nearly 18,000 likes and 4,300 shares later, Hardee's received multiple millions of impressions, press coverage in major national publications and positive recognition for being associated with the young man, Kailen Young, seen helping the elderly woman in the picture.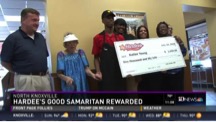 Hardee's handled the situation flawlessly- putting their Public Relations team into action, publicly recognizing the young man and rewarding him a $1,000 check at a press event for doing the right thing.
It truly is amazing how powerful and viral social media can be. It quite literally can make or break your brand. While Hardee's had the good fortune of being a part of something positive, many brands are on the unfortunate end of embarrassing and negative mishaps.
For example, in May, a Burger King employee in Florida was seen dumping a vat of used cooking oil directly into a storm drain. Not only was it illegal, it was also incredibly hazardous for the environment.
Social media channels everywhere erupted in anger. As a result, Burger King's brand suffered major setbacks and received tons of negative publicity.
It was later discovered that this was not an isolated incident at this particular Burger King, and the employees had been dumping oil into the drain for several weeks- nearly 50 gallons collectively.
Major damage control and crisis management was a necessary response. Fortunately for Burger King, they took the right actions by retraining all of their employees, changing procedures, putting together a comprehensive environmental cleanup plan and firing the GM and the employee involved in the incident.
With the availability and ever-presence of mobile technology, situations like this can and will be documented by the public. In short, it is important for your brand to always be equipped to not only embrace the good, but also prepare for the worst.
Shoot us a message to share your thoughts or learn how proactive Public Relations planning and crisis management can help your brand.
[gl-hs-form form_id='1863abe3-c1e4-43d0-a298-c7b132f8ce03′]