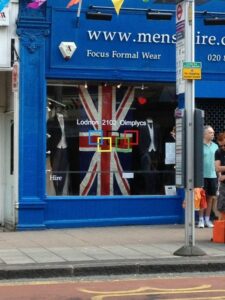 It seems the theme for Summer 2012 revolves around breaking through records. From the record-breaking temperatures here across the U.S., to the world-record performances across the Pond, people are taking notice.
However, some Americans and global Olympic watchers alike may not be as aware of the attempt to break from the record-setting handcuffs that have been placed on brands, athletes, and Olympics patrons by the London Organizing Committee of the Olympic Games.
As countries and countrymen across the globe have prepared themselves for the irreplaceable two-week span, the LOCOG will be keeping a close eye.
This year, the LOCOG has put into place a form of "Brand Police." These "Police" are currently patrolling the shops and streets of London to try to prevent and punish any attempt at Guerilla marketing tactics by storeowners, athletes, and/or patrons. But seriously, Brand Police? It may seem justified, due to the recent value of the Olympics brand that Brand Finance has placed at $47.6 billion dollars. Coincidentally, worth more than all of its major sponsors—Coca-Cola, Acer, ATOS, Dow Chemical, General Electric, McDonalds, Omega, Panasonic, Proctor & Gamble, Samsung and Visa—combined. Ideally, what brand wouldn't want a chance to take home a piece of that brand-exposure gold?
No one is excluded from this branding lockdown. Athletes are prohibited to publicly mention companies or products that are not sponsors, such as Nike. Not in press conferences, not on clothing, not on Twitter. For American track athlete, Nick Symmonds, his $11,000 "Hanson Dodge" tattoo was auctioned off as a promotional sponsor on his upper arm. Quite a high price, considering Symmonds is forced to cover the tattoo during his race and can only show it off during the few minutes before and after his one event.
The LOCOG has now risen above the expansion of branded entertainment in an attempt to reach a level that can contain it, if at all possible. Strict enforcement of rules and regulations are surrounding athletes and corporate brands at the Summer 2012 Olympics in London—some 300-plus enforcement "Police" are monitoring and reporting violations they see. This means that exclusive rights are being protected for the eleven "top-tier" sponsors mentioned above.
No big deal though, the price tag for a simple "top-tier" sponsorship is only around $100 million. And of course, there are also some 44 other "small" sponsorships like British Airways and Adidas that only had to pay a mere $65 million, roughly. Even with cash like that, they are not as fortunate as the major brands. The "smaller" brands are permitted, only, during designated times and within certain parameters. But everyone must be careful. If not properly granted rights and clearance, words like: "Olympics," "2012," gold," "London," "twenty twelve," or "medals" have a chance of flagging the "Brand Police," especially if two or more are in the same sentence. The "Brand Police" don't write a simple, slap-on-the-wrist ticket either. For example, if an individual decides to walk around the Olympic village wearing a shirt that says Pepsi, how about a fine of $30,000? For spectators in London, stay clear of those in purple tops and hats.
As for the retail and restaurants located around the London Olympic area, all brand names not included as sponsors, must be covered up or removed. Not even manufacturers' logos on soap dispensers and toilets are safe from the "Brand Police." Window stickers promoting "the games" and "London" as a whole, are protected by the "Brand Police" as well. Instead, the LOCOG is advising companies and brands to promote the Olympics with simple acts of patriotism, such as a country's flag. Not to worry, they can always pay the Olympic brand more money to use THEIR officially licensed merchandise.
The "Brand Police" are already busy. A local bakery shop owner was flagged because he hung five bagel rings in his window to resemble the Olympic rings. The owner was forced to take them down after just a half hour of exposure. Other examples of "violators," according to "Brand Police," include: a doll maker selling small dolls for £1 wearing a 'summer Olympic outfit,' a cake baker using rings on a cake, and even Kate Middleton's mother using 'Let the Games Begin' on her small-business website—Party Pieces.
Connecting, sharing and mere exposure continue to grow across the world, and the Olympic stage this summer could not be a better translation. Athletes, brands and passionate countrymen are involved in record-breaking spending as an attempt to increase their viewership and reach. Let the Branding Games begin.