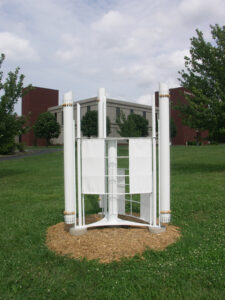 "I have a long history of working with my hands," says Marcus Griffen, Web Designer and Programmer at St. Louis ad agency Geile/Leon Marketing Communications since August of 2011.
Just spend a few minutes with the soft-spoken, lanky 30-year-old, and you'll quickly discover that his skill set is far more comprehensive than just being "handy."
Born and raised in Edwardsville, Illinois, Marcus spent his childhood like a lot of kids do, working with his hands and trying to figure out how stuff works. His relentless curiosity and talent led to work as a mechanic, and later, a fabricator for an industrial automation facility.
He attended college at SIU-Edwardsville, and then grad school at SIU-Carbondale as a philosophy major, but that was short-lived. Marcus headed back to Edwardsville to pursue a degree in graphic design. While there, he took several classes in sculpture, which for Marcus became much more than just a required course.
"Ultimately I still needed a paying job, and I was sick of the idea of working in academia, so sculpture became my second interest."
Marcus decided that Graphic Design was how he would pay the bills, and Sculpture would be his therapy, along with cycling and attending art openings.
He says he's most interested in works that integrate graphic design, steel fabrication, and interactivity. "I believe that one of the strongest aspects of sculpture is the opportunity, if given, to have a tactile experience with the piece."
He found that experience by creating mutoscopes, which are actually cyclical flipbooks, controlled by a gear mechanism, and cranked by hand. "I am personally a fan of larger scale pieces. My mutoscopes are roughly 4.5 to 5 feet high, and are composed of steel, wood, gearing and paper." According to Marcus, mutoscopes are incredibly time consuming and costly to produce. In fact, his last piece took 3 months to complete.
"Maybe due to my previous life as an academic philosopher, I'm happiest when I have something that stimulates me intellectually and presents a problem to solve." He says he prefers to think of himself as a "tinkerer, more than an artist." He seeks challenges and opportunities to learn.
Like when he created a 10-foot tall wind harp, which he produced for SIUE's Sculpture on Campus program. It's made from steel, PVC piping, canvas sails, and harp strings. "When the wind rushes through the extremely taut strings, it creates some very beautiful sounds." The wind harp, one of his favorite pieces, remained on display at the campus for a year.
Is his artwork for sale?
"I haven't had any luck selling my sculpture, but I don't really create in large enough quantity or push very hard for sales. I would like to become more serious with my art, but I simply haven't had much time in the last 2 years to pursue it."
That's probably due, in large part, to the fact his skills and talents are in very high demand here at Geile/Leon, where our clients are happily discovering how the integration of Marcus' talented hands, and artistic perspective delivers premium results. But there is a connection … Marcus' welding equipment of choice is Lincoln Electric, which is the parent company of The Harris Product Group, a G/L client.

Beer-Thirty Drink of Choice: Schlafly Hefeweizen