In a perfect world, every dog would have a home, and every home would have a dog. For the G/L team, this world became a reality, even if for just one Friday. Playing out a dog lover's dream, we had the opportunity to come together for a heart-felt trip outside the agency's walls.
Our crew at Geile/Leon was excited to join one another and give back to the St. Louis community by spending a day at the Stray Rescue main shelter located at 2320 Pine Street. The afternoon was spent assisting the staff of the non-profit organization in their valiant efforts to keep these homeless companions off the streets and placed in healthy, happy environments. With over 100 doggie residents at the facility, there was plenty of work to go around.
Dogs from Stray Rescue appear to understand that they have been given a second lease on life. Many fellow dog lovers know, offering these remarkable animals a little attention and affection rewards their new owners with an allegiance and love that is unmatched. Led by founder Randy Grim, the organization is out on the streets of St. Louis feeding strays and finding animals that need a home.
Chances like these to unite together as a group and serve our community are just another way for G/Lers to rejuvenate their creative juices, further develop their team-building skills and contribute to society. Now that's an animal-friendly world at its finest!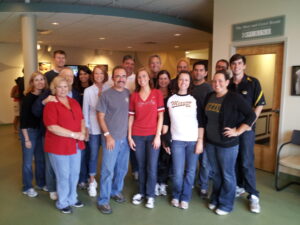 Discover Stray Rescue yourself:
• Stray Rescue was officially recognized as a non-profit organization and shelter in 1998
• As the only no-kill shelter in St. Louis, Stray Rescue rehabilitates abused and abandoned canines (and felines), and facilitates adoption to good homes.
• Their shelters have over 200 dogs and 100 cats on any given day that are looking for a loving home.
• Individuals can provide non-permanent Foster Care to animals in transition during the adoption process.
• Stray Rescue is always in need of volunteers and also everyday items. View their Wish List to find out more!
• Summer adoption hours are Monday – Sunday 10am-6pm or attend one of their many adoption events to find your perfect furry companion!
To learn more about Stray Rescue St. Louis and how to support their cause, visit www.strayrescue.org, or call 314.771.6121