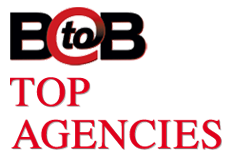 Things like this wouldn't be possible if it weren't for our clients and G/Lers around the agency. We want to say thank you to everyone involved in making last year mean something. We're excited about the things to come and look forward to an even better year in 2013. #MakeItMeanSomething
Geile/Leon announced today that BtoB magazine has included G/L in its annual "Top Agencies Special Report", the only St. Louis agency to do so. The list includes more than 100 agencies and is compiled based on annual revenue, percentage of business-to-business revenue, innovation, and top clients for small, midsize, large and interactive agencies.

Based on estimated 2012 revenues, $3.7 million of Geile/Leon's total revenues of $4.2 million came from B-to-B communications projects, accounting for 88 percent of the agency's business.

"We are so proud to make the list of top agencies in BtoB magazine, a must-read for the marketing industry," said Tim Leon, President and Brand Strategist. It's a testament to the creativity and commitment of our staff who continue to develop innovative, challenging and effective B-to-B campaigns for our growing list of clients."

BtoB magazine is a leading publication for marketing strategists.  To view the entire list of BtoB's Top Agencies, go to www.btobonline.com.