At points over the past year or so, it seems like generative AI has been expanding so fast that it feels like drinking from a firehose to keep track of it all.
From big-picture worries about deep fakes and issues regarding copyrighted materials and inaccurate information from ChatGPT, to smaller issues like wondering how aspiring copywriters can make beer money in college if nobody needs to pay them to write their papers for them anymore (this one hits close to home, obviously), it's a lot to take in.
It also hits close to home for many marketers. That's because AI is one of the most pressing issues on the mind of marketers in 2023. The majority are considering how AI can be used analytically in data analysis and strategy implementation, but there are also a sizeable amount considering it as a tool for copywriting and content creation.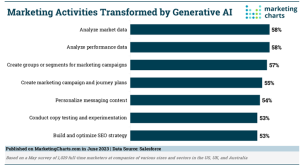 However, instead of letting things spiral out of control, recently leaders of some of the foremost companies in AI met with President Biden to discuss parameters for the use of AI. According to this Reuters article, they have developed a type of digital watermark that would allow AI-generated graphics and copy to be identified as such, making it more difficult to let the computers do the thinking. And to risk plagiarism and copyright infringement. They are also taking extra precautions to ensure that AI is free of bias and not to be used to discriminate against vulnerable groups.
This follows a recent effort in the EU to draft their own set of rules for generative AI, including safeguards against copyright infringement and illegal content.
Additionally, Congress is now mulling a bill that would require political advertisements to disclose whether they used AI to create imagery or content.
In a time in which we are divided, these bipartisan efforts underly both the importance of this issue and the astounding pace at which this technology is developing. Even with new rules and legislation in place, the effects of AI and machine learning are of a great magnitude in both business and our everyday lives.
Unlike so many times in the past, proactive action from our lawmakers and business leaders on the use of this powerful technology reassures that there will be some sort of roadmap to help focus on what was previously sprawling and unchecked growth.
Like many of us, G/L is fascinated by the development of this technology and the ramifications on our industry. We'll continue following each development closely, and you can bet that we'll be eager to talk about it. So make sure to follow along on social media so you don't miss anything!