by Kyle Crews
I am extremely grateful for my time at Geile Leon this summer. When I entered the door for the first time, I felt like I was instantly a part of the team. In fact, this feeling of inclusion and family led me to the idea I created my project around. I will get into that in a moment. 
First, let's dive into the culture at G/L. As I said, it felt like I belonged when I first entered the doors. That is attributable to the wonderful team here. Everyone gets along extremely well and seems to genuinely enjoy seeing each other every day. This has created a phenomenal working environment that you look forward to being a part of. The team has a lot of fun while doing impeccable work. In my time here I have never seen a client unhappy, in fact they are always thrilled with the product they receive. I think that is why G/L is so successful, relationships are of the utmost importance. Whether you are a client or a member of the team, G/L has your best interest at heart.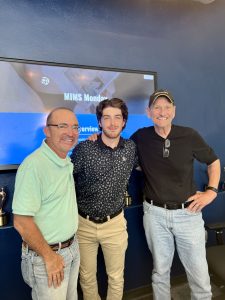 The knowledge and experience I have gained at the agency is priceless. One of the first things I learned was how to properly do media research. This is an important skill, especially at the start of many jobs. Research leads to ideas, concepts, and information that is imperative to these creative projects. I grew comfortable using new programs that I will use in the future. Some of these are Qwilr, Workamajig, Dropbox, and Keynote. 
I also got to experience Public Relations for the first time. I think this is not only important but one of G/L's strengths. As I stated earlier, relationships are so important to the agency. This is evident by the way the clients interacted with us on Zoom calls and other meetings. Terri Waters, Director of PR, had a great relationship with all of the clients I worked with at G/L. Due to great communication and the ability to write great press releases, our clients were always happy. I learned that there is more to PR than I initially thought. I worked with several clients that we have on retainer doing media research, helping proof or formulate press releases, finding and recommending publications for their articles, etc.
I also learned about social media and how you can effectively use this for business. One client I learned about was Weinhardt Party Rentals. Melissa Ross, our Digital Content Producer, taught me several things about social media marketing through this client. One of the big things was KPIs. Key Performance Indicators dictate the marketing success. Melissa would create posts for Weinhardt's Instagram. These came in the form of Instagram reels, a carousel of pictures, stories, and more. Based upon engagement, we could monitor how the Instagram account's following was receiving the posts, also known as the KPI's. Learning how to use popular trends and different techniques to draw engagement was really intriguing. I now have confidence that I could run an account similar to this. 
One of the tasks I was given was to audit their Instagram and look at what posts did better than others. I then based upon engagement and the content of the post could deduct why it did better or worse than others. This allows us to adjust and change strategies if needed. As social media gets even more popular, these skills will be crucial to the future of marketing. 
Unfortunately, I cannot write about every single experience here at G/L or you would never stop reading this. With that being said, lastly, I would like to talk about my "final project." I was tasked at the beginning of the internship to come up with an idea for a comprehensive project. I was to lead this project by creating the idea and the schedule. Naturally, I was a bit nervous at first. I have never led a project like this and it was not very comparable to a school project. I was most concerned about getting an idea with real substance to it. I looked at the website for inspiration and found the employee content somewhat entertaining. I did not really know everyone yet and liked the candid videos on the site as it felt I was getting a behind-the-scenes look.
As about a week or two went by, I had no concrete idea and was a little worried. After experiencing this work environment that is second to none, I thought of something. The website could use some new content as the videos are a tad dated. On top of that, G/L does not necessarily market themselves. Like many marketing agencies, they are so caught up with clients that they tend to not advertise themselves. 
So, considering all this I came up with an idea to create an employee testimonial social campaign. I also wished to tie this in with "Make It Mean Something" as that is a key slogan describing the culture here at the agency. I thought this would be great for the website and G/L brand, but also for prospecting employees or clients. With a frame of an idea, I was taught how to create a brief and properly share that with the team. I got great feedback right away. This would provide social content for the website and other forms of social media that is sometimes hard to come by. On top of that, it would cost little to nothing for us to do the project, yet it would benefit the agency greatly.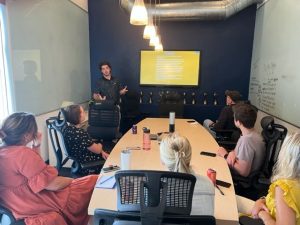 Through this process, I learned how to create and follow a project schedule. I hosted meetings and check-ins with the team throughout the summer to get feedback and input. Before these check-ins, I was taught about deliverables and how to work with a creative team. It is rewarding to see your project come to life through the great minds of the team members. For example, Shawn Maher, our Associative Creative Director, came up with a great bucket of questions pertaining to "make it mean something," the work environment, and G/L in general. Aidan Douglas, Junior Art Director, came up with a great template for the static media element as well. The static media has the person's name, title, two images, and quote. The quote is pulled directly from one of their video responses. This is condensed into a carousel format and easily shared across socials. We decided this would complement the video content well. Take a look for yourself, the content should be viewable on our socials and website soon. 
 I cannot thank Luke Smith, Assistant Director of Brand Strategy, enough. He helped teach me how to run a project and direct the ins and outs of the process. As well as Meg Strange, Senior Brand Manager. Meg and Luke gave me guidance and knowledge throughout my entire time here, not just on my big project. The rest of the team deserves a lot of credit as well. They made my project come to life and taught me so many things to bring into my future employment.  Lastly, I would just like to say how thankful I am that I received the opportunity to intern here. Tim Leon, Dave Geile, and Randy Micheletti were great to me from my first interview all the way through the internship. I cannot thank them enough for the opportunity and mentorship. I feel that I am now prepared to enter the workforce next year with confidence