For over 25 years, Clayco has the most comprehensive Diversity and Inclusion (D&I) program in the industry by creating meaningful opportunity and enduring structural change for their employees, minority-owned and women-owned business partners, and the communities where they live and work. However, these initiatives needed to be unified under one brand umbrella. Clayco challenged Geile/Leon to "package" all of their separate D&I initiatives under one new theme and provide a new name for this ongoing initiative. After Clayco selected a name and theme, G/L developed a logo and key messaging that would be used as a foundation for all internal and external communications for this unified initiative.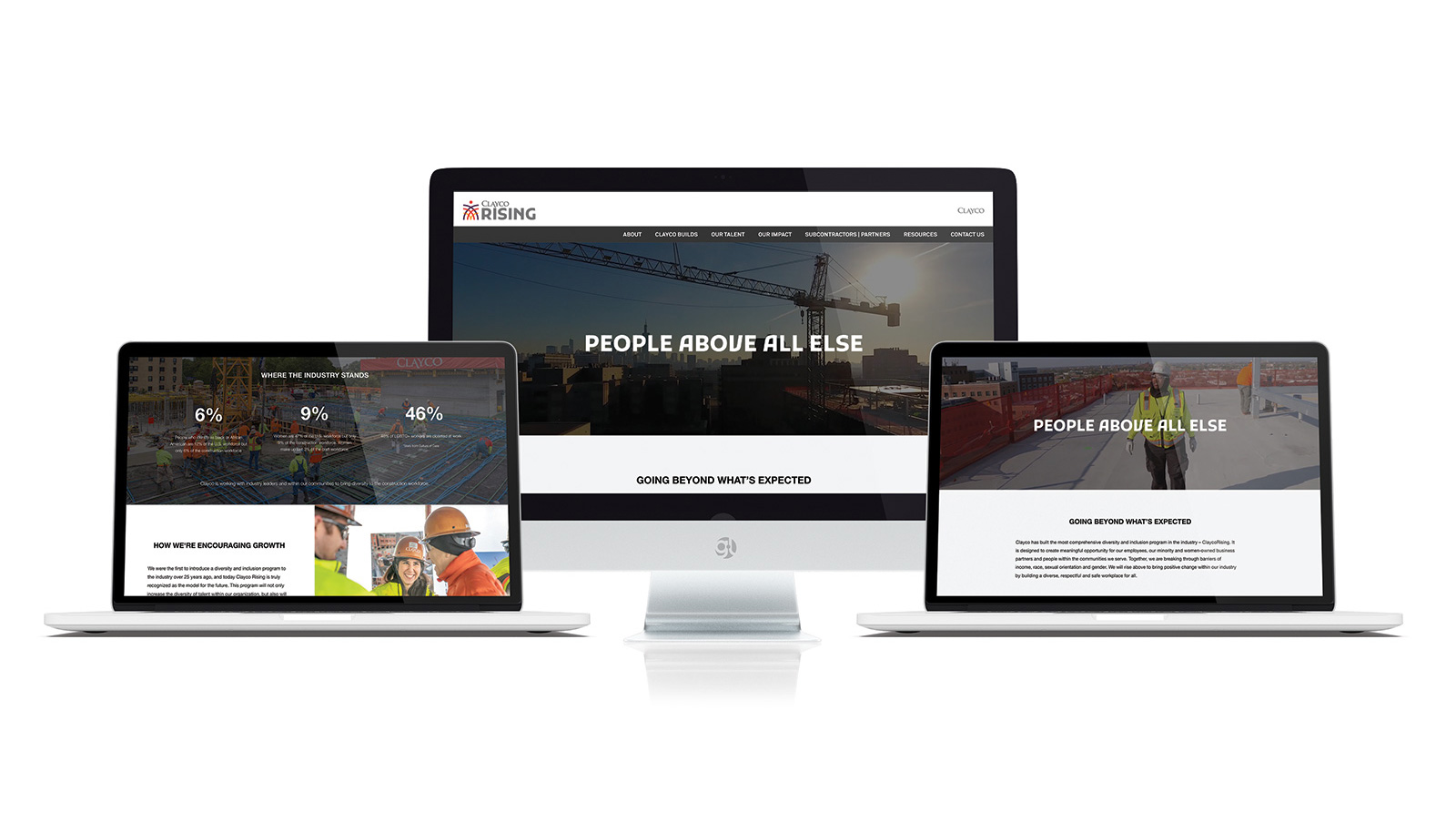 Geile/Leon developed a new initiative name and tagline, "Clayco Rising, People Above All Else" along with a comprehensive rationale for this theme. Clayco Rising communicates creating opportunities, leveraging vast resources and strong partnerships to lift up others – breaking through barriers of income, race, sexual orientation and gender. This initiative's new logo and rationale invite others in the industry to join our efforts and bring positive change in the industry.
The new logo uses the upward movement of lines to demonstrate employees' career path trajectory at Clayco, with primary and secondary colors from Clayco's brand guidelines. The typography used connects to the linework of the symbol to provide a "foundation" for this lockup.
GOING BEYOND WHAT'S EXPECTED — Clayco has built the most comprehensive diversity and inclusion program in the industry – Clayco Rising. It is designed to create meaningful opportunity for our employees, our minority and women-owned business partners and people within the communities we serve. Together, we are breaking through barriers of income, race, sexual orientation and gender. We will rise above to bring positive change within our industry by building a diverse, respectful and safe workplace for all.
The "Clayco Rising" initiative was launched externally in December 2020 through a new website, trade and business print ads, and additional collateral material. As they've done for more than 25 years, Clayco continues to drive real positive change and build a safe, equitable and diverse workplace for all.