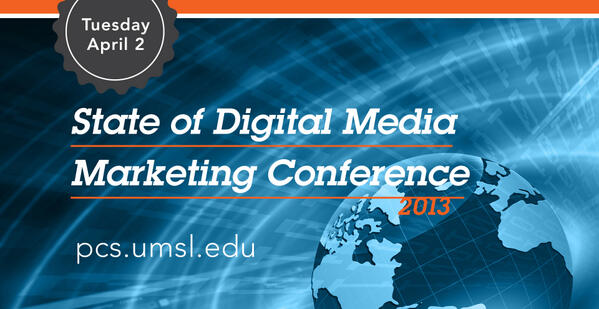 Two days ago, @trandolph86 and I attended the State of Digital Media Marketing Conference at the University of Missouri-Saint Louis. The event featured a distinguished lineup of digital media and marketing experts that spoke to an audience of roughly 200 professionals and students from all over Missouri (and some from outside the state). To be honest, seeing the St. Louis marketing & advertising community all come together under the common goal of expanding our understanding about the digital trends shaping the future of future of business…was pretty damn cool. This speaks volumes for what @pddrake (Academic Director & Assistant Professor, UMSL) was able to accomplish by putting this whole thing together. With the help of Google Hangouts (if you're not on Google+, get on & get active), live streaming set up during the event for those who couldn't come and #Bonfyre, it was about as digital as you can get.
For those of you that missed this insightful event, here are the speakers and a brief overview of what was discussed:
Mark Sawyier: Co-Founder & CEO. Bonfyre App
– St. Louis startup that launched 6 months ago
– Platform allows people to use events as a framework for sharing — real-time photos, chats & video (everyone's content is in one place) and you don't have to directly connect with each attendee.
Dave Lewan: Vice President Public Sector & Sales Operations, ForeSee
– Big data is puzzling for companies
– "Offline we don't compare banks to restaurants to retail, but online we do compare their websites."
Ellen Shiflett: Regional Marketing Executive, IBM
-You have to pay attention to what's going on in this digital age, but measuring everything is a whole different battle
– "Talk to me, not my demographic"
Jerry Bernhart: Principal-Digital Marketing Recruiter, Bernhart Associates
– The future for digital marketing jobs is incredible; the only way is up.
– "The internet is like electricity. It's part of everything."
– "What is digital marketing? A life-long learning experience."
– "Soon digital and online won't be areas of expertise, they'll be fields of knowledge everyone is expected to have."
Todd Budin: Vice President of Product Management, Nielsen
– Advertising effectiveness is measured by Reach, Resonance & Reaction.
– TV is still king, but digital's role is starting to be solved — the two-screen experience, browsing a laptop, phone or tablet while watching TV
– Businesses need to realize that people are still watching TV, just not necessarily ON a TV
Scott Meyer: CEO & Founder, Evidon (Ghostery)
– In the three years since Evidon bought Ghostery, they've grown from 700,000 users to 16 million
– The privacy issue online is something that needs to be paid attention to
– You have the right to control what trackers can/cannot do
– "Data is the new oil."
Andrew Grinch: Associate Athletic Director, University of Missouri
– A case study for the Mizzou Athletics awareness & excitement campaign for joining the SEC
– Built awareness in one market (bragging) and excitement in others (without boasting)
Kevin Murphy: Google
– Coming in live from a Google event in Las Vegas, he stresses the importance of digital in everything Google does & avoids Google Glass conversation
– "Keyword advertising still very successful, but advertisers have so much to work with"
– My favorite tweet of the day: "@Atomicdust: "Google Hangout with Google rep from the Google Conference. #thatssometa UMSLdigital"
Katie Krum: Nickelodeon
– Walks us through a case study for what Nickelodeon was able to accomplish with last year's digital campaign efforts for the Kid's Choice Awards
– "I watch, therefore I tweet"
Marshall Sponder: Author, Social Media Analytics & Proffessor, Rutgers University
– Dispersed a wealth of knowledge regarding big data & digital trends — what's the most important when looking at social media analytics
– Big data is new and exciting: people know they want to use it, but they're not sure how
 David Laird: Director of Research & B2B Insights, Yahoo
– Talked about digging deeper into numbers and realizing that your biggest results can come from unexpected places
– "Find the environment that works best for your company and maximize it."
Overall, the afternoon provided a wealth of information from each speaker trying desperately to stay within their allotted time. They hoped this would be the first of many conferences of this nature, and we couldn't agree more. The information above is a quick recap, but for more information on any of the speakers or their topics, stay tuned as more resources are made available.
Resources:
Recap via tweets on Storify:
Storify
See every tweet that took place during the event:
Epilogger
Video Link of entire conference:
UMSL Video Presentation w/ Time Stamps
Download each speaker's "deck": 
Viewable & Savable PowerPoints/PDFs