Trending Now from G/L
Every Monday morning the G/L office starts our week by meeting together and updating everyone on new business, old business, this week's needs, last week's successes, all the good stuff. We always take time at the end of these meetings to discuss what is currently trending in our marketing and design world. We decided that what we talk about isn't only beneficial to us, but to our clients and followers – so every Monday morning we share our favorite trend with you.
What we're talking about this week
Here are our thoughts on this week's trend – the blue dress/white dress debacle. (#TheDress)
It is beneficial for brands to have a plan when it comes to social media, blogging, content, graphics, etc. However, some brands are especially good at knowing that not everything can go by a plan and sometimes you have to be on call for marketing opportunities. There are current events and trends that are just too good to pass up, and (if it's appropriate) you have to take advantage of a real-time marketing opportunity.
We won't get into the logistics about the dress, how it's actually blue and black or how the image was just so overexposed that the colors look different than what they actually are. We will show you some of our favorite tweets from brands that saw a real time marketing opportunity and took it.
Snapple gave us the facts.

LEGO modeled the dress.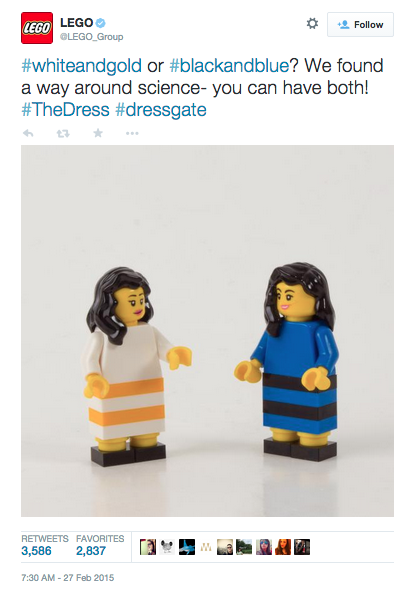 Dunkin' Donuts took the argument to the taste.
Oreo Cookie made it a classic vanilla vs. chocolate.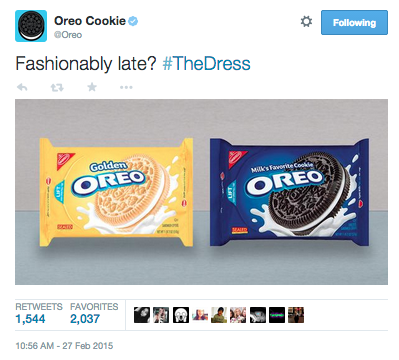 The number of retweets and favorites show that these efforts were successful. Wanting to know more about how to keep your brand timely and relevant with real-time marketing? We love this stuff, so let's chat about it! Shoot us a message on our website, tweet at us or connect with us on Facebook to join our conversation.