Sponsorships for professional athletes carry an extreme level of volatility for the simple reason that the outcome of the games they play aren't predetermined (unless you're a professional wrestling fan, that is).
It's remarkable how quickly a golfer like Tiger Woods can watch his stock plummet while Rory McIlroy heads in the opposite direction. It's incredible to watch a no-name utility infielder like Geoff Blum become a World Series hero in one night. It's humorous even when it's for all the wrong reasons and most casual fans probably don't remember your name.
And then there's LeBron.
There's no question that LeBron James is a phenomenal basketball player. His legend was already well known when he was playing in high school, and this was really before the golden age of high school sports clips were available all over the internet. Even before he even played his first professional game for the Cleveland Cavaliers in 2003, Nike had signed him to a deal just short of nine figures.
More than a decade later, that relationship between LeBron and Nike has been accompanied by everything that's happened on and off the court. On the court, LeBron brought the Cavs to the brink of a title. Then, off the court, there was The Decision.
Shortly after, amid a strong fan backlash, Nike released this iconic spot, attempting to humanize LeBron and explain why he made the choice to leave home:
After winning multiple titles in Miami, LeBron returned home and nearly delivered a championship, falling short in the NBA finals despite a heroic effort.
Over the weekend, the Cavaliers and Nike took out a full-page ad in the Cleveland Plain Dealer, thanking the fans for their support and reminding them that the journey is not over.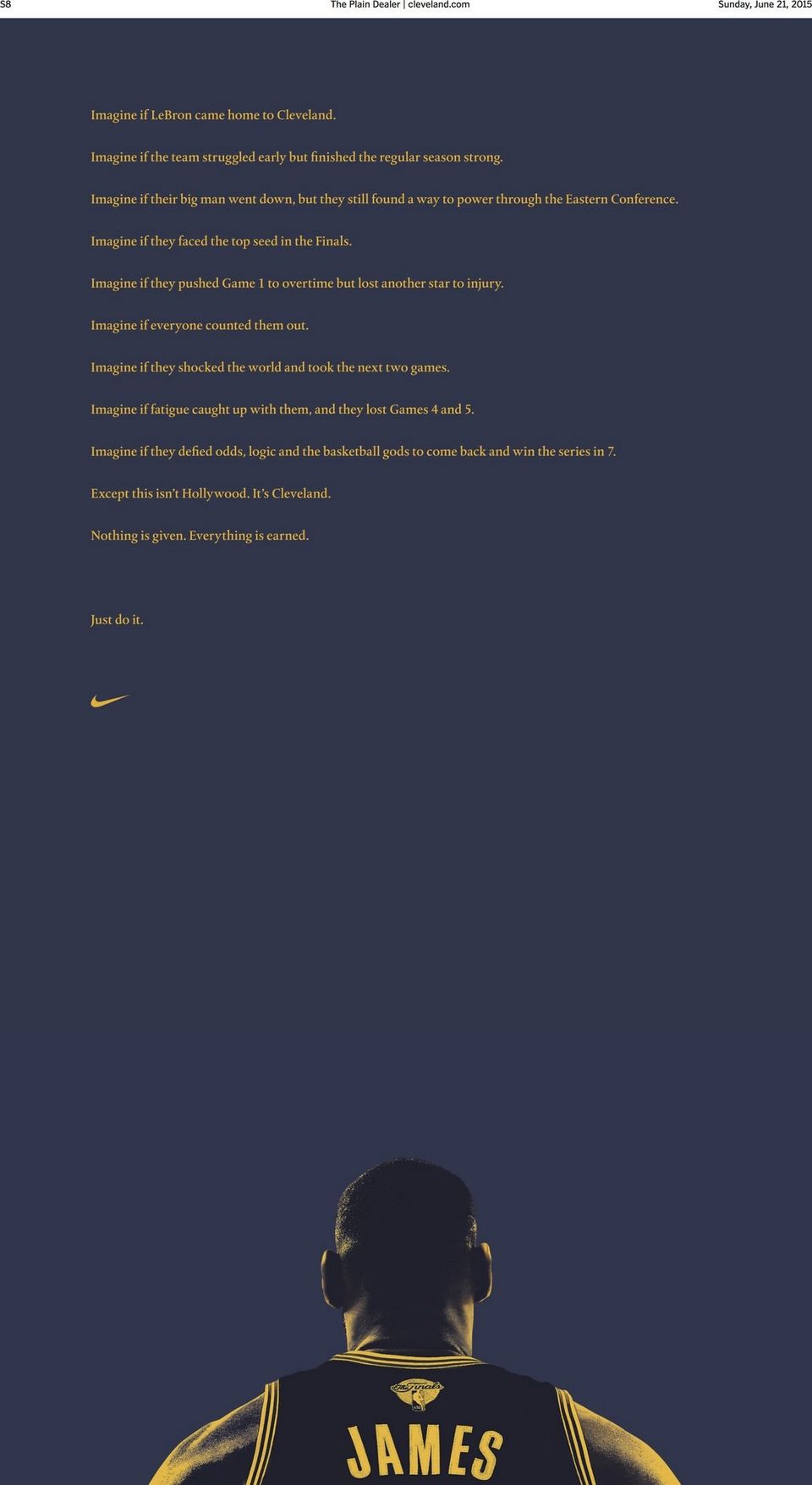 The ad is minimalist, but it strikes the right tone and tells the story that just transpired as well as what lies ahead. For a partnership like this, Nike doesn't have to be front and center because they've been intertwined with his story since the beginning. It allows them to focus more on why people should care instead of trying to just sell shiny new shoes.
Certainly not everyone has the resources that Nike does, but as this ad shows, you don't need to create something overly flashy to resonate with readers and grow a brand. If you're ever looking for help your brand take the next step, we're here to help.
[gl-hs-form form_id='1863abe3-c1e4-43d0-a298-c7b132f8ce03′]