If you are living person in America who follows even the slightest bit of media, you've probably seen an advertisement for Draft Kings or Fan Duel. Well, "seen" is probably putting it lightly – more likely, you've probably been BOMBARDED with the chance to WIN LOTS OF MONEY RIGHT NOW AHHHHH LOUD NOISES!!!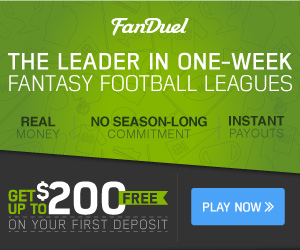 Seriously though, oversaturation might be an understatement. Whether you're watching ESPN, browsing through Twitter, checking your Instagram feed, DraftKings and FanDuel will be there, encouraging you to part ways with your money for the chance to win even more money. In fact, DraftKings spent a whopping $23.6 million on TV ads alone during the first week of September.
With football season here, don't expect the ads to stop any time soon. Especially with the two companies bringing a combined $60 million in entry fees during the first week of the NFL season. And with a combined $800 million in investment funding, you'll be seeing video testimonials of Average Joe's striking it rich for the rest of the year, at the very least.

The problem is, the Average Joe's aren't actually the ones winning.
Saahil Sud is a fake-sports apex predator. He enters hundreds of daily contests in baseball and football under the name "maxdalury," and he almost always trounces the field. He claims to risk an average of $140,000 per day with a return of about 8 percent. Sud studied math and economics at Amherst College and took a job in data science at a digital marketing firm before shifting to full-time fantasy. He's now the top-ranked daily fantasy sports player, according to Rotogrinders, a stats site for daily fantasy players. He says he's made more than $2 million so far this year. 
So many times a day does your every day *gambler* win? 13 times. Talk about unlucky.
The reason we put gambler in disclaimers is because fantasy sports isn't technically gambling. While sports gambling is technically illegal in the United States (with the exception of certain areas), fantasy sports live in a grey area that will almost certainly be legally challenged at some point. None of this means anything to the NCAA, who is now saying that college athletes who use the sites would be committing a standards violation.
We've discussed the topic of ad viewability before when discussing the ad nauseum loop of Game of War ads last spring:
Really, we (marketers, advertisers, publishers) should be using targeting and tracking (since, let's be honest, so much of our data usage is tracked anyways) and tailor to the right audience to provide more applicable ads. This seems obvious – don't we all know this? Aren't most people already doing this? Yes, yet we still see "Game of War" ads, well…EVERYWHERE!
The future for one-day fantasy is still up in the air, but the question is whether the actual product can continue to deliver revenue at the rate it's currently going. Plus, any changes in the gambling industry could be a massive boon or blow to their market.
What do you think? Have you tried one-day fantasy yet? Or are you just waiting for ads to disappear already?
[gl-hs-form form_id='1863abe3-c1e4-43d0-a298-c7b132f8ce03′]