Ask professionals for their opinion of LinkedIn and you'll likely get a wide range of responses. Some see it as an invaluable tool for connecting with their peers. Others may simply not use it all that much. Some find it profoundly creepy (and with good reasons).
That being said, LinkedIn marketing presents an interesting challenge. The site already has a member of "freemium" offerings to begin with, such as paid memberships, online learning and a whole suite of other sales-based solutions. While posting regularly on the platform is a good strategy, the reach of specific posts varies wildly.
While the platform has some reasonably priced sponsored post options, many of the more enterprise advertising and recruiting solutions on LinkedIn can be incredibly pricey. They know they have a deep pool of profiles that others want to connect with and they leverage that data effectively. Their game, their rules.
Some marketers have tried to work around some of the advertising restrictions inherent in the LinkedIn platform. Men's clothing company Bonobos created a personal profile for a shirt, which was positively received. It didn't last long, however, as the profile went afoul of LinkedIn's rules.
Another cool spin comes from well-regarded airline Virgin Atlantic. The company has always prided themselves on having an outgoing brand personality. They've taken that playfulness to LinkedIn to the form of a contest disguised as a job posting:
Virgin claims to be the first brand to leverage LinkedIn's job search feature for promotional purposes. And its VP of marketing for the Americas, Simon Bradley, says the response has been quite positive to date, with nearly 200 applicants at the time of this posting. Bradley has bigger plans for the campaign; he tells AdFreak that the work is "very exciting for us, and we'll be starting to seed it in our social campaigns very soon."
Unlike the Bonobos campaign, this seems to have been approved in some fashion by LinkedIn. Which is good because it'd be a shame to work so hard on a campaign idea to have it shot down by the platform. And it looks like the prize of a round-trip to London has garnered some significant interest.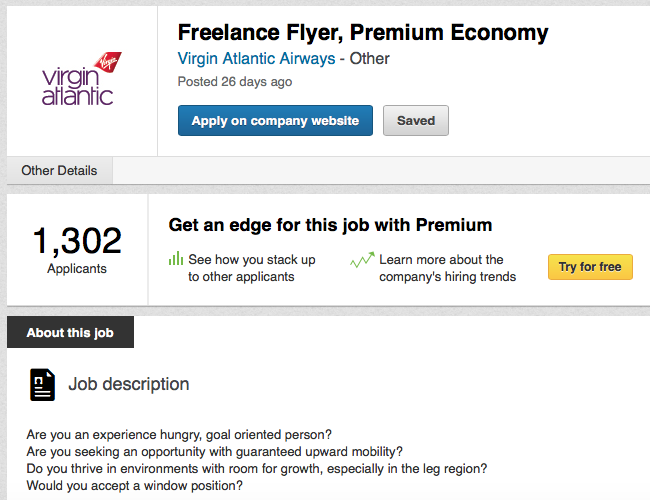 Which is probably good news for LinkedIn, which is now in the middle of a slightly embarrassing class-action lawsuit.
We're always looking for innovative ways to help brands cut through the clutter. Want to find out how yours can push the envelope? Let us know your thoughts.
[gl-hs-form form_id='1863abe3-c1e4-43d0-a298-c7b132f8ce03′]