When we approach a brand refresh, both our team and our clients feel a great sense of excitement. It's an opportunity to envision what the brand is and what it could become. And it's a way to chart a course to get there. A new chapter.
With Ursuline Academy, they arrived with 175 years of brand equity. Of changing lives. Of guiding young women towards the future they want. So this was going to be a new chapter in a very long, very emotionally engaging book.
It All Begins in 15th Century Italy
Let's start at the beginning. The very beginning, back to Italy in the 15th century. Angela Merici, now St. Angela Merici, was born in Desenzano, a small town on the shore of Lake Garda in Lombary.
Although she was orphaned at a young age, St. Angela was inspired by her faith to make a difference in the world. This charismatic woman provided education and inspiration to young women, empowering them and their future. Eventually, she would go on to found the Order of the Ursulines.
Next Stop: 19th Century St. Louis
Now, fast-forward to St. Louis (Kirkwood specifically) in 1848. Ursuline Academy was founded in the spirit of St. Angela. A place where women could learn, reach their potential and become who they want to be.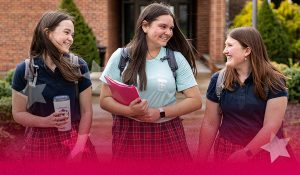 Now, 175 years later, the mission remains the same, but the brand needed a refresh. The core mission remains the same, but there are so many more opportunities for young women. St. Angela surely would be proud of what they've become. And we needed to evolve the brand to reflect this societal evolution.
First Step: Sparking Something Great
The more we thought about Ursuline Academy, the more we latched onto how two seemingly incongruent USPs actually worked together really well. First of all, the Culture of Belonging at Ursuline ensures that no matter who you are, you feel like you belong from the moment you arrive.
On the other hand, each girl is encouraged to celebrate her unique individuality, and the personalized guidance provided by faculty, counselors, staff, and student mentors at Ursuline helps her find her own, unique path that reflects that. You belong, but you don't have to change to do it. In fact, it's quite the opposite.
This led to a tagline and campaign theme, "All paths lead to you," as well as the accompanying CTA, "It's your path. Take it." It's the perfect encapsulation of the individualized approach, hands on guidance and the culture that celebrates what makes you uniquely you. Ursuline is where you are welcome to come as you are and become who you want to be.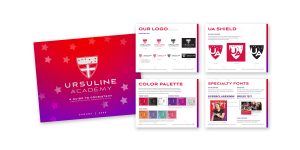 So What Does That Look Like?
Now the challenge was to determine what "All paths lead to you" looks like. And at the same time, we also set out to evolve a 175-year-old logo to retain its history but feel more symmetrical and modern. And we even used a font that was named after a town near St. Angela's neck of the woods in Lombardy.
Just like Ursuline Academy, we put each individual girl front and center as the star, letting them express their unique personality while still wearing Ursuline's uniform. We also maintained the same red and white while introducing a purple hue, something fun that didn't detract from the brand, but rather added to it.

How It All Comes Together
Now Ursuline Academy's brand feels as contemporary, welcoming and utterly exciting as the school itself is. And we were so excited about what we came up with along with our amazing clients that we couldn't wait to extend it to executions in video, social, and viewbooks, which we created as a series with four different covers with four different girls, giving prospective students an opportunity to select the personality (or path) that most appealed to them.
Like we said earlier, brand refreshes are exciting. This one, especially so, because we were entrusted with such a historically significant brand. Not to mention working with an institution that helps future generations feel empowered to become exactly what they've always dreamed. We couldn't say enough great things about our clients for working with us to create work that excited all of us so much.