A recent blog article from The Advisory Board summed up the conundrum healthcare organizations face when it comes to price transparency:
"When patients search for the cost of an upcoming procedure, they typically find the average price for the service. Unfortunately, this information fails to reflect the actual patient obligation. This type of inaccurate estimate can decrease volumes and patient satisfaction."
Like it or not, as marketers, we have to take the confusion out of healthcare pricing, especially non-emergency procedures. It's stressful enough for consumers to navigate the healthcare waters. There's a tremendous opportunity to make price transparency real for patients and offer valuable information that helps them make informed healthcare decisions – while providing them much-needed peace of mind.
Slowly, healthcare organizations are introducing more patient-centric price transparency with easy-to-understand pricing information, so patients see their true financial obligation. Like it or not, that is becoming more important as high-deductible insurance becomes the norm for many healthcare plans.
I've seen the power of real price transparency first hand with Geile/Leon's diagnostic imaging client Metro Imaging, who recently introduced an online pricing tool that provides patients an estimated exam cost taking into account the patient's insurance coverage. It took me less than a minute to get my price information in a secure, private online environment. And if the patient needs what their out of pocket obligation will be, all you do is call Metro Imaging and they will calculate that expense for you.
As you can imagine, it's exciting to have something unique and valuable to market to consumers. The television spot we developed for Metro's upfront pricing is not over the top and the theme is simple "Clarity in Healthcare". The message speaks for itself, so we didn't hide it with a bunch of jargon and eye candy. It's not necessary when you have such an impactful message and point of difference!
As a healthcare marketer, it's been so gratifying to see what I think is the beginning of real price transparency in healthcare. And for those organizations that can develop the technology and operational changes required to offer patient-centric priding, it will be a true competitive advantage and result in overall better patient satisfaction. If you have other examples of real price transparency in healthcare, I'd love to hear from you.
Also, don't forget to check out our brand-new healthcare white paper HERE or by filling out the form below: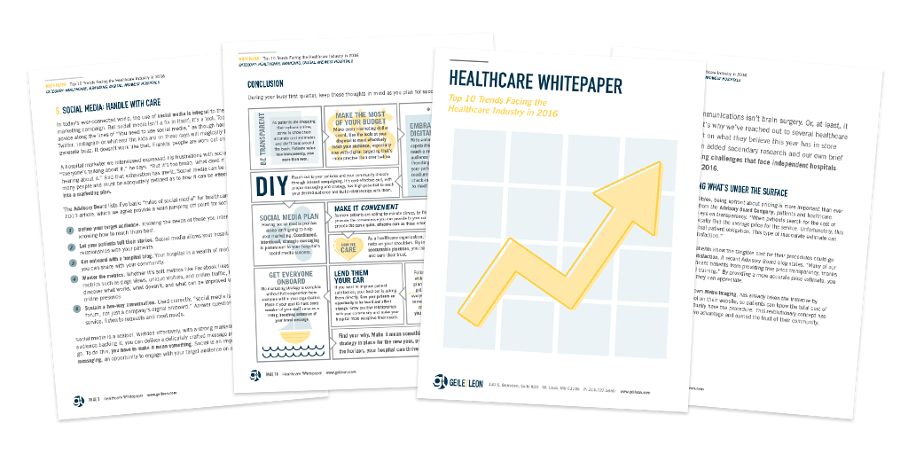 [gl-hs-form form_id='d7272d0e-44ce-41ae-983e-f52b58f52b41′]