The rise of craft brewing over the past decade has been nothing short of staggering. In 2014, small and independent craft breweries contributed more than $55 billion to the American economy. In St. Louis alone, we're spoiled with the likes of Urban Chestnut, Perennial Artisan Ales, Civil Life and so many more.
The saturation of this market presents an interesting dilemma: how do you grow your brand and make it stand out without the budget of, say, A-B InBev?
This was (and still is) a challenge for Oskar Blues Brewery, a Colorado-based brewery that opened a satellite facility in North Carolina three years ago. A report earlier this year listed Oskar Blues as the twenty-fourth largest craft brewer in the country. That's not bad, but competing with the names at the top of the list, including Sierra Nevada, New Belgium and Lagunitas, is no easy task. Certainly, social media is an incredibly powerful tool, but it takes time and content (and money) to use at a highly effective level.
"We tend to stay pretty true to our core beers and brands," says brand spokesperson Aaron Baker. "Consistency and quality of the beer is a large part of what we do."
When it comes to trying to sponsor events – whether it's music, sports or other festivals, the price points can be very high. U.S. Soccer, for example, currently has a sponsorship deal with A-B InBev, which is not an easy thing to compete with. The other brands U.S. Soccer partners with likely have marketing dollars to spend.
So how else can a brand reach that target audience?
An important thing to note about American soccer as compared to other sports – supporters culture is a very big deal. Organized chants and events are tailored more to the fan than to the team itself. Not to discredit other sports, but there's a certain level of pride associated with a soccer supporter that's tough to top.
The main supporters group for the United States National Team is The American Outlaws. Founded in 2007, the group's popularity has exploded during the past two World Cups (2010 and 2014). In fact, the group now boasts a paid membership base of more than 30,000 die-hard fans.
So – Oskar Blues Brewery – meet The American Outlaws.
The partnership didn't happen overnight, according to Baker. When he heard that the Outlaws were not renewing a sponsorship agreement with Budweiser, he reached out to AO leadership to gauge interest about collaborating together. After about a year of discussion, they were able to agree on a partnership, linking AO and Dale's Pale Ale, the brewery's flagship brew.
So far, the AO-DPA connection seems to be a natural fit.
"Dale's (as a beer brand) is very supportive of what people are passionate about," says Baker. "When you support passion like what The American Outlaws have, you're going to be successful."
The relationship seems to be mutually beneficial. It keeps Dale's Pale Ale, which makes up 50% of Oskar Blues' sales, top of mind at various events. It also fits in well with their event-focused approach to marketing, which their local reps have an opportunity to build personal interactions on an ongoing basis. Plus, being able to send promotional products directly to each AO chapter's local bar is a great way to leverage that grassroots network. As Baker says, getting "cans in hands" is a big part of building brand awareness.
For The American Outlaws…well, free beer will always make you friends. But beyond that, having a go-to national beer brand that still has grassroots craft credibility seems to be very important to the traveling soccer supporter. Plus, a red, white and blue can gets you lots of 'Merica points.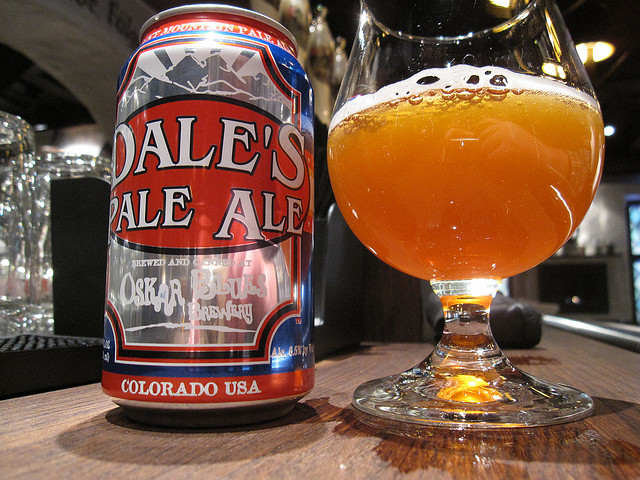 The future for both Oskar Blues and The American Outlaws seems bright. Oskar Blues is building a third brewery in Austin, which will open in May 2016.
With the United States Men's National Team playing at Busch Stadium in St. Louis on Friday, there should be an electric atmosphere on the day of the game as well as the night before. A near-sellout crowd is expected with The American Outlaws section holding more than 1000 people. Expect lots of red, white and blue on and off the field.
If you're planning to make it out to the game, let us know. I'll make sure to grab a beer for ya.
[gl-hs-form form_id='1863abe3-c1e4-43d0-a298-c7b132f8ce03′]