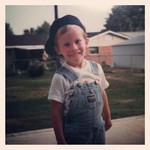 New kid's on the block, has a hunch for pitch. Chinese food makes him sick. And I think it's fly when clients stop by for the new guy, for the new guy. (Shout out to LFO for the hook.) Here's your chance to meet the new G/L art director.
"I enjoy projects that require creative problem solving to find a solution that works. They always seem to be the most rewarding," reflects Adam Schneider.
Born and raised in the heart of St. Louis, "The Schneid" is the latest piece added to the creative puzzle at the Clayton-based advertising agency, Geile/Leon Marketing Communications.
Bringing years of agency experience in his portfolio, "Schneids" first stepped in the doors here at G/L during the beginning of September. And we've enjoyed his sense of humor and creative mindset ever since. After graduating from SEMO in 2007, the creative light bulb first illuminated at Red Letter Communications and later working for the University of Missouri St. Louis.
"You couldn't get the drawing pencil out of my hand as a kid and one year our photography class toured a few of the ad agencies in town. As soon as I saw what they were doing, I was hooked." The artist formerly known as Adam made his life decision that day—working as a creative in advertising was the only thing he wanted to do. Geile/Leon's newest-named artist has worked building a variety of brands and developing complete campaigns that reach across all media ever since.
Often called a new nickname everyday, "Schultz" found life here amongst G/Lers "refreshing." Not everyone gets to come to work everyday with excitement for how the day unfolds. Who knows, an educational YouTube study sesh might break out in the creative wing? "There's a really great atmosphere here and everyone has been super cool and easy to get along with. The work hard, play hard mentality resonates and it's something I've really appreciated so far," he says.
Although he and his girlfriend spend many weekends traveling and seeing friends, they never miss an opportunity to eat, see and do as much as possible. And of course, root for the defending World Series Champion "Birds on the Bat."
Oh, and in case you haven't noticed, the jury is still out on alternative names between our creative Adams at G/L. If you have any suggestions for creative alternatives or nicknames, comment and tell us.

Beer-Thirty Drink of Choice: Pabst Blue Ribbon