It's hard to believe that it's been almost three years. In 2020, the world's history took a dramatic turn as the pandemic changed the way we lived our lives. It changed how people wanted to interact with businesses and in turn, pushed businesses to change the way they serve customers.  That also means that it's been nearly three years since we began discussing  Return on Empathy™.  ROE as we call it, states that brands who infuse empathy into their marketing efforts can realize both tangible and intangible benefits.  Empathetic brands experience increased brand loyalty for their efforts.
When we first introduced this metric, we predicted that demand for more empathy in marketing and communications was here to stay and that brands had to get on board if they wished to remain relevant in their markets. That has proven to be true.  While the pandemic seemed to precipitate consumers' desire for brands to be empathetic,  many other societal topics and consumer concerns continue to drive the empathy movement in marketing.  This graph featured in MarketingCharts  highlights what societal topics are on marketer's minds: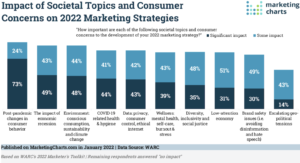 A 2020  IPSOS study conducted on behalf of PepsiCo Beverages reported that 94% of respondents stated that empathy is important to making society work, and 85% reported that they believe brands demonstrating real empathy is critical to creating customer loyalty. Fast forward to today and we still see marketers addressing empathy in marketing.  A 2022 Vericast Survey of 316 U.S. marketing decision-makers found that almost half (46%) of respondents find it challenging to express empathy in ads, and a similar share (44%)  are struggling to strike the right emotional tone given what is happening in the world.
And that's not all. Empathy needs to be demonstrated not just in marketing efforts but at touchpoints throughout the customer journey – the total brand experience.  The March/April 2022 EcoConsultancy Future of Marketing Report found that 60% of respondents agreed that the ability to navigate changing consumer behaviors and expectations will be very significant to success, which leads to why "improving the customer experience and customer journey management" is a top-three priority for marketers over the next two years. 
The demand for empathy from brands is nothing new. In the mid-2010s, neuroscientist Antonio Damasio used data from around 20 years of research to determine that emotion is critical to the decision-making process. While it took a pandemic to create a flash point, consumers have shown how deeply they value empathy.   And so, Return on Empathy™ continues to become increasingly important to a brand's success.
Now is the time to ask yourself if your brand has remained empathetic during these seismic shifts in the marketplace. We would love to discuss how we can infuse some empathy into your marketing and communication and share 5 actionable strategies to ensure your brand is relevant to your target audience. Get in touch with Tim Leon ([email protected])  and he will schedule a quick, 15-minute chat to talk about it.