We've seen a lot of definitions of employer branding, and many of them can be really convoluted. However, we believe at it's core, it's not that complicated. Simply put, employer branding is the way in which an organization portrays its reputation as an employer and the value proposition it offers both team members and prospective employees.
When implementing an employer branding strategy, the communication efforts center around the company's mission, culture, values and brand personality. There are tons of articles and research out there pointing to the fact that it's a contributing factor to employee retention and recruitment efforts. One recent article from Career Plug discovered that more than half of job seekers abandon their pursuit of a company after reading negative reviews, and 24% of prospective job candidates left a negative review online after having a negative experience in the hiring process.
And there's plenty of evidence that this topic is on top marketers' minds across the country. A recent survey of 300 communications professionals considered employee communications to be of top importance in 2021.
Employer Branding for Recruitment Campaigns
As a marketer, you must influence how your brand is being represented in recruiting efforts. After all, you have a brand positioning and value proposition developed for your target audiences (at least you should!), so it is important to implement your brand messaging in any communications to employees and prospective employees.
And while employee recruitment efforts may be driven by human resources, marketers should be included in the marketing and communications. The messaging, graphics, and tone should be on the brand. While most of the job seekers might take help from experts (such as Career Climb), as an employer, you have the opportunity to educate, inform and motivate these prospective new employees. In addition, you need to provide them insight on what your brand stands for, what makes the brand compelling, and their role as ambassadors of the brand's value proposition.
Employer Branding for Your Workforce
In terms of employee retention, employees are critical to building a strong brand. They are on the front line of delivering the brand experience and fulfilling the brand promise both for customers and prospective employees. It's imperative to train and motivate employees to embrace and live the brand values, not to mention finding prospective employees whose values reflect those of your brand. Many brands also tend to use job management software australia or elsewhere to guide the employees and to help in increasing their overall efficiency. In our brand development work for clients, we always stress the importance of communicating to employees about the role they play in the brand experience.
How to Implement Employer Branding
For Your Employees:
Provide ongoing training for employees on all aspects of your brand
Clearly define each employee's role in delivering your brand promise
Develop an ongoing employee communications plan, including newsletters, social media posts, events, internal PR, etc.
For Your Employee Recruitment:
Develop an ongoing series of employee testimonials to use in print, digital, website, etc.
Roll out a recruitment campaign theme that is in alignment with the current brand positioning, brand graphic standard and messaging. This is accomplished by marketing and HR working together!
Create brand messaging that internal HR can use when doing introductory meeting with candidates
Check out Employer Branding in Action
We recently developed a recruitment campaign for our client, Harris Products Group, built around look that is consistent with the customer-facing branding creative while using the theme, "We Make the World Run Better." Creative included brochures, images to be used within job postings on LinkedIn, recruitment booth signage for job fairs/tradeshows and a corporate overview video to introduce new employees to Harris Products Group.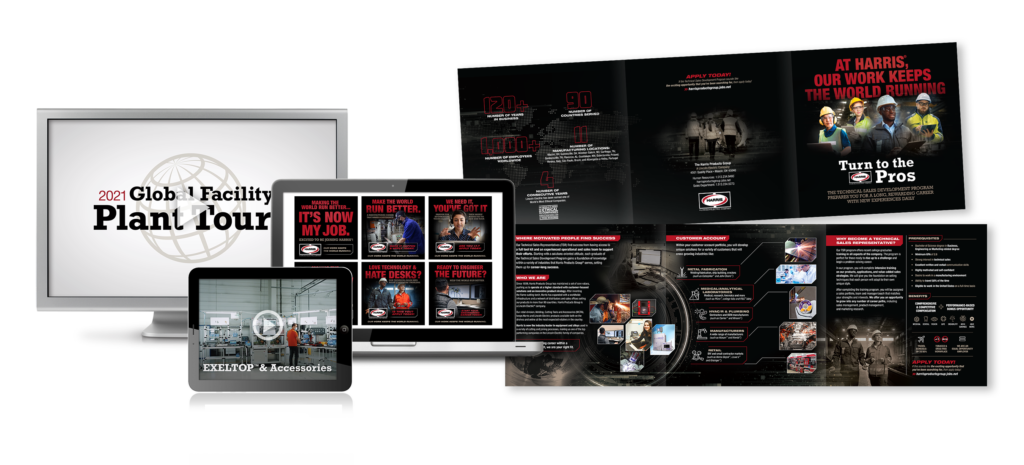 Of course, each brand is unique, requiring its own unique solutions. That's where we come in. We have over three decades of branding and marketing communications experience, so we are well suited to creating an employer branding plan and executing it. Get in touch to see how we can ensure that brand consistency and brand experience are woven into your employer branding efforts.