How often do you, as a rural hospital marketer, think this about lost patients?
"Come back!  This is where you need to be!"
I still remember these words by Sister Eilleen. I was 16 and waiting for an evening teen religion school class at my church to begin. Out of the window I saw Jeff, a friend, being dropped off by his mother. Jeff got out of the car and proceeded to walk towards the church. But as soon as his mother drove away, he quickly changed directions and headed towards the foosball arcade. When the nun saw this, she quickly opened the window and yelled,
"Come back. This is where you need to be!"
How often do you hear yourself, like Sister Eilleen, nearly screaming this to lost patients? Outlying hospitals seem to face an all too similar problem: local residents leaving their city to visit a hospital in a larger community.
Patient Outmigration is a big concern for rural hospitals. The National Research Corporation surveyed 200 U. S. hospitals and published some of the results in their article, The Case of the Impatient Patient. According to the research, 37% of those that travel to a distant hospital report doing so because of the reputation of the provider outside of their locale. These people travel an average of 66 to 90 miles for a variety of services including Heart Care (13.9 percent), Orthopedic Treatment and Surgery (13 percent), Neurology (11.5 percent), and Cancer Treatment (9.5 percent).
And another interesting outcome from the research was the household income level of these outmigrators. Conventional wisdom may lead to thinking those with high household income are more likely traveling to other cities. However, the opposite seems to be true – the lower the HHI, the higher rate of percentage of patient outmigration. As the report notes, the poorest households had the highest outmigration rate, while those earning over $100k had the lowest outmigration rate of all.
We here at Geile/Leon speak with many outlying hospitals. What we hear is that often the local hospital offers the same level of care, outcomes and amenities as a big city hospital, all located within a very short drive, yet some patients insist on going further for their care. So if it's not better care that attracts patients to larger hospitals, maybe it's a perception problem (This is one of the many issues facing the healthcare industry as you can read more in our Healthcare Marketing Whitepaper).
Are your local residents making the long drive to other cities when they could receive the help they need close by at your hospital?  Do you have a good story to tell but not getting the results you hoped for?
If patient outmigration is a concern, give us a call at 314-727-5850 and ask for Tim Leon. We would love to hear about the issues you are facing and maybe show you a few relevant examples of how we helped our clients with similar challenges. At Geile/Leon, we enjoy working with rural hospitals ranging from 80-200 beds. We've helped them refine their brands, improve their messaging, and increase patient visits.
Maybe with a few adjustments to your MarCom will keep you from yelling:
"Come back! This is where you need to be!"
We are looking forward to meeting you. And if you're not ready to meet right at this moment, that's totally fine. But we'd definitely recommend checking out our Special Report for Healthcare Marketers in the meantime by filling out the form below: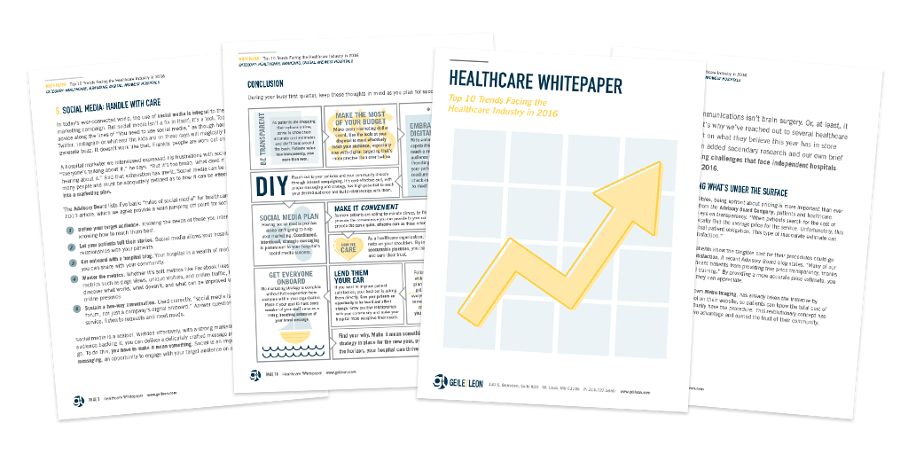 [gl-hs-form form_id='d7272d0e-44ce-41ae-983e-f52b58f52b41′]