It's important to remain relevant in this fast-moving world, especially as a brand. When your brand falls behind and loses its luster in the marketplace, it can quickly feel daunting and nearly impossible to catch up. Here at G/L, we want to help brands become dynamic so they are able to adapt and remain aligned with the world around them. This does not require having to do an entire brand overhaul, but rather a refresh.
Think of a brand refresh as a home renovation. You evaluate and decide which elements are structurally sound and which elements need to be reinforced or redone. We understand that your brand still likely has valuable brand equity and that some of what inspired the brand still may be true. It just needs a little touching up. We make slight changes to the graphic identity, tone, presentation, and/or messaging to create value and relevance between your brand and the marketplace.
A total rebranding is like completely destroying a building and building a new one to serve new needs and functions. This means creating a new brand identity, brand standards, and/or new message architecture. Our team at G/L will conduct voice-of-the-customer research to identify the problem and fully understand what it will take to regain your brand's relevance with your audience. Then, we reposition the brand, develop new brand architecture, and communicate this new brand messaging both internally and externally. This ensures that the brand is embraced and understood by all audiences.
That doesn't sound too bad, right? With our experienced team, we can lead the way to help your brand find relevance with the customer, no matter what path you choose.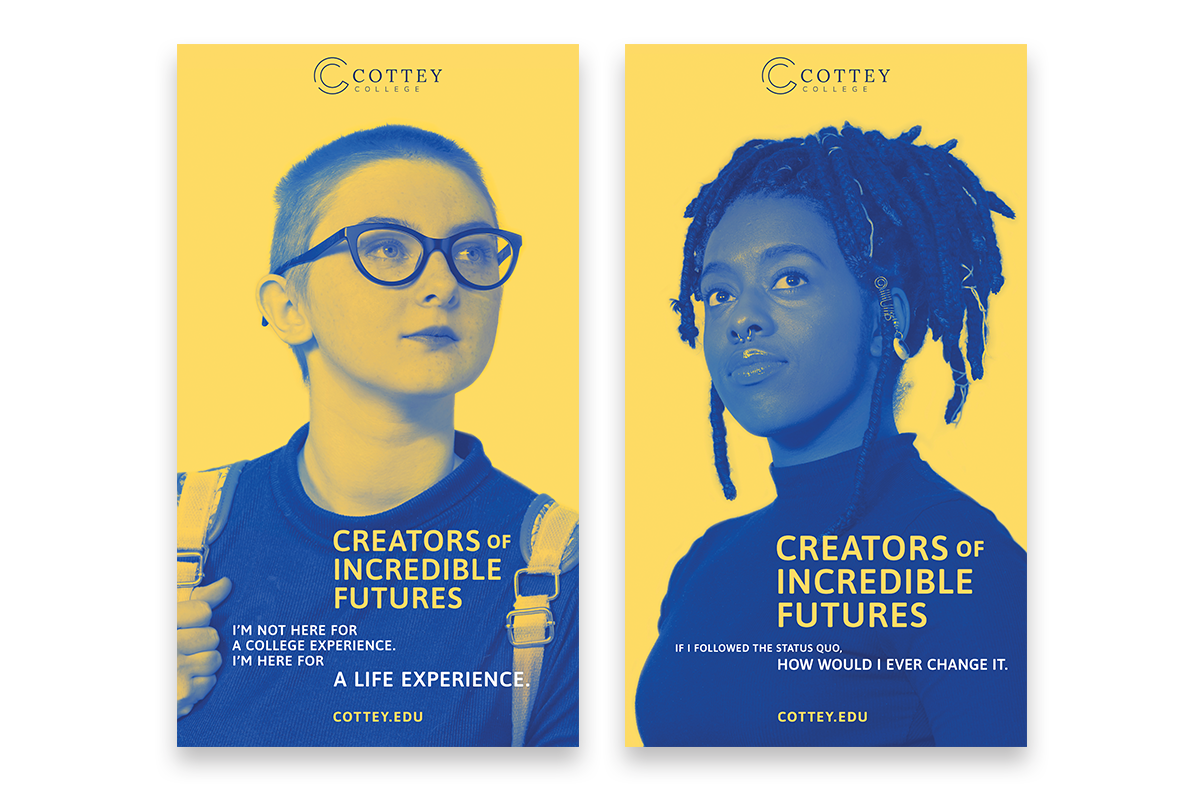 One of our many successful rebranding campaigns was with Cottey College, an all-women's school in rural Missouri. They challenged us to update their brand to be relevant, especially with prospective students that sought a specialized college experience. That's when we developed the 'Creators of Incredible Futures' branding, tagline and campaign. This bold look highlighted the unique students at Cottey College with hero portraits to make them stand out. This messaging was all about Cottey offering students not just a college experience, but also a life experience, which caught the attention of many prospective students. Not only did the fresh modern look catch their eye, but the powerful messaging did too.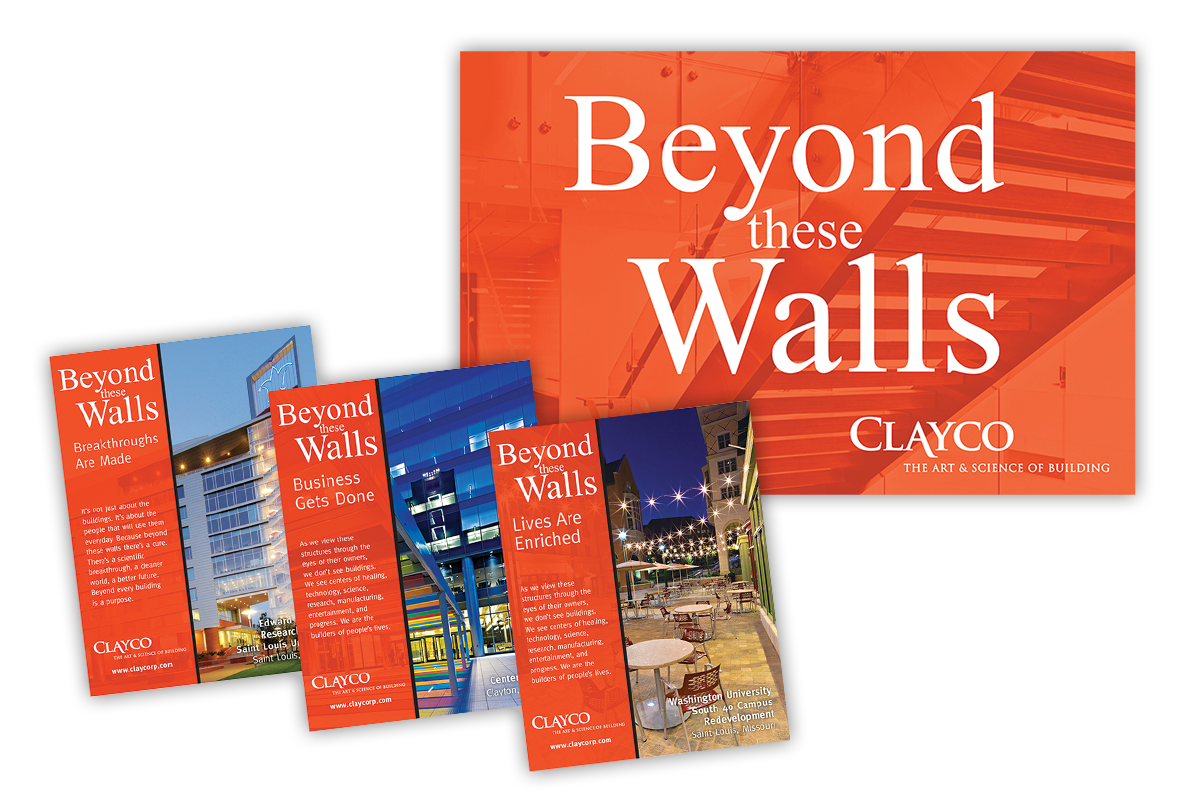 Another rebrand we are proud of was for our client Clayco, a full-service national real estate, architecture, engineering, design-build and construction firm. The challenge they presented us was to evolve their brand from a local design-build firm to a national design-build firm that was building the structures that significantly improve healthcare, the environment, and our future. The messaging reflects the company's holistic approach to creating buildings that have an impact beyond the physical structure. As a solution, we created the "Beyond These Walls" brand campaign that highlighted Clayco's forward-thinking passion to deliver building solutions of the highest standard. This branding campaign is over four years old and still as relevant as ever. We are thrilled to have been involved in the national success that Clayco has had and it has been exciting to see what they have accomplished as a result of the "Beyond These Walls" campaign.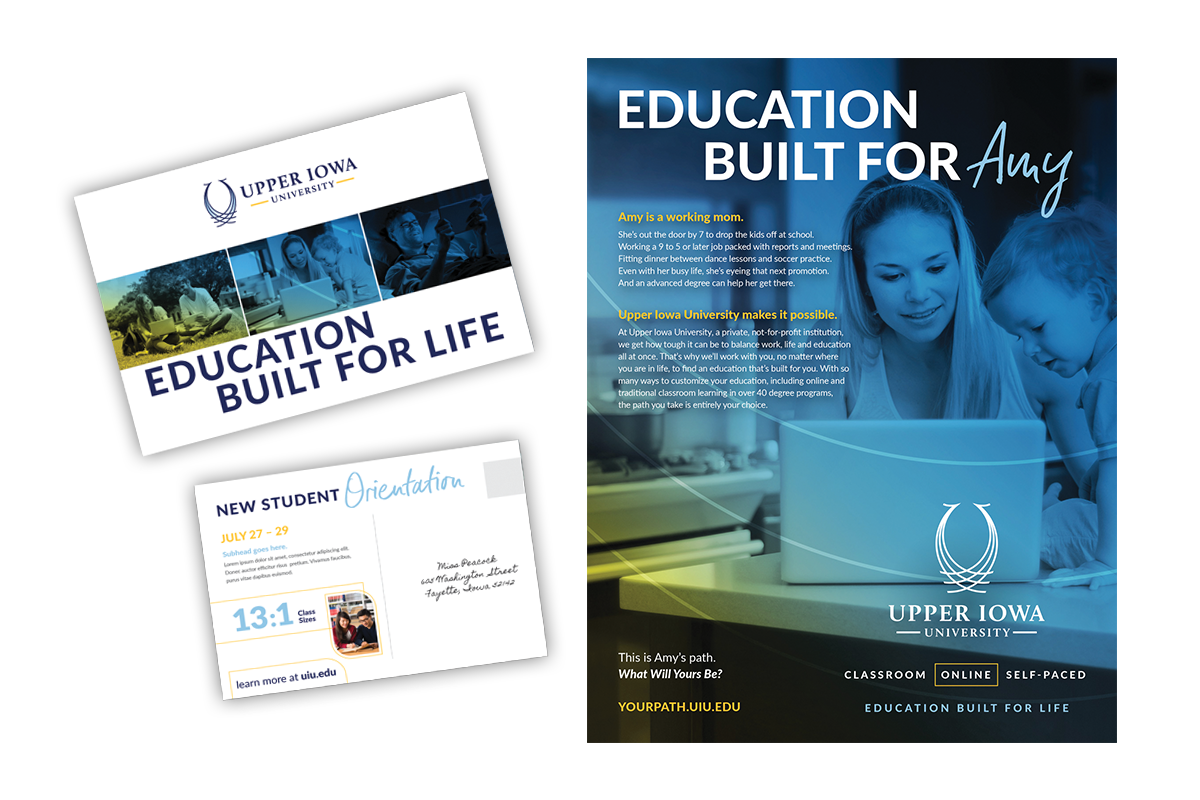 Finally, we sometimes recommend a lighter-touch refresh, like the one we developed for Upper Iowa University's (UIU) brand. UIU, located in Fayette, Iowa, is a private, not-for-profit university that challenged us to develop an integrated marketing plan to create a cohesive brand and message. Through a comprehensive brand discovery session with UIU leadership, our team developed the 'Education Built for Life' campaign. This new brand identity gave prospective students a better perception of the UIU experience for both undergrad students and adult learners who were looking for a university that met them where they were in life and designed an educational experience that helped them succeed. Don't take our word for it, studies show that after launching this campaign, UIU experienced growth in applications and enrollment.
Doing a brand refresh or rebrand is not something to shy away from or delay. In fact, most companies wish they had done it sooner! Our team at G/L is ready to help you with whatever path you choose. Take the survey on the homepage of our website to find out if your brand needs a rebrand or refresh. If you have any questions about the dynamic branding model or process to help brands regain their relevance, email our branding expert Tim Leon at [email protected].