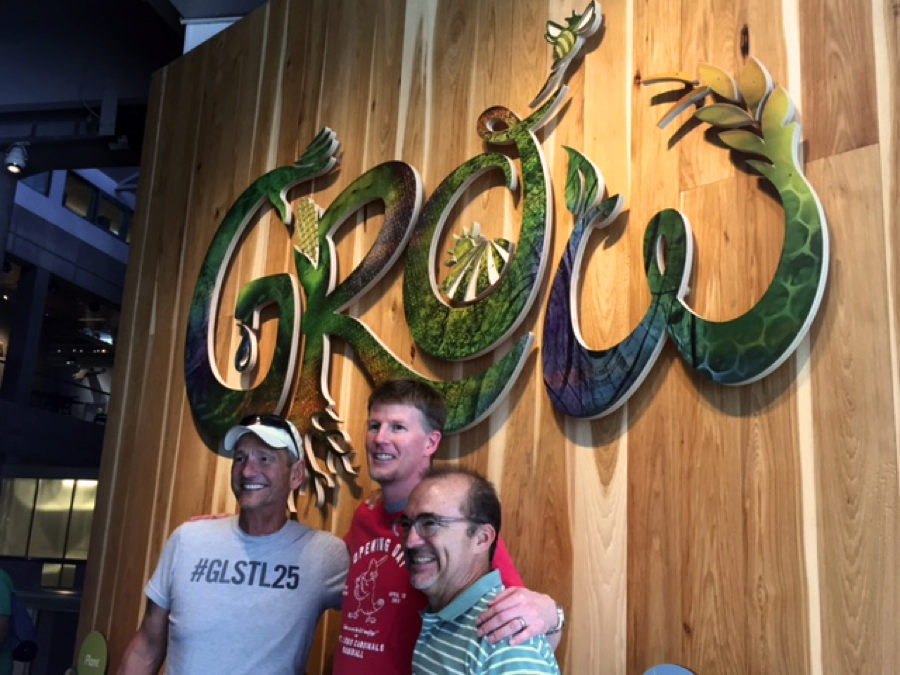 Our client, St. Louis Science Center, recently won the St. Louis Business Journal's 2017 Building St. Louis award for the GROW exhibit outdoor Gallery. The award recognizes and honors projects that have created a positive community impact. We were thrilled to be mentioned in their FACEBOOK post along with exhibit and construction contractors Arcturis, Gyroscope Inc., Interface Construction Corporation, and SWT Design.
To be mentioned and acknowledged by our client in this Facebook post got me thinking about how critical it is, when creating an environment for a brand to live, whether it be an exhibit, tradeshow booth, retail store environment, etc., to ensure that the process is a collaborative effort from start to finish with the entire team, including architects, designers and marketers.
Our first assignment was to design the GROW logo and brand identity for the project. We were fortunate to have architect and construction renderings as references to truly visualize the brand experience. This inspired the design and allowed us to incorporate a logo and brand identity that reflected the mission of the exhibit – to bring to life the connection each of us has to agriculture and the journey of food from farm to table. Our logo is prominently portrayed at the entrance of the exhibit, on the website and throughout the marketing campaign.
Understanding the vision of the architects, designers and client helped make the brand experience seamless so we could develop a brand identity and marketing campaign that reflected it perfectly. See our work: St. Louis Science Center – Grow