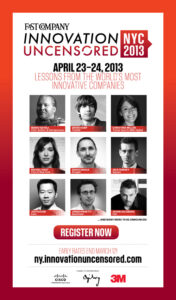 Every year Fast Company magazine honors the world's most innovative companies and follows that up with their Innovation Uncensored event, where the likes of you and I can learn lessons from these world-changing innovators. I attended this event in New York last week and had the opportunity to hear from the most creative, nimble, inventive businesses who are leading the march to a smarter, more connected future.
If every word spoken from the stage were logged and cataloged, I would guess that the five most oft-spoken words were conversation, community, genuine, content and social.
My overall takeaway from listening to these leaders from across the country and across industries is that advertising as you and I know it is dead! And that's okay with me. I started out in this business late in the Mad Men era, and this new attitude of community, conversation and genuineness is refreshing. I remember hearing E.E. Norris of BBDO tell a story back in the day about his young son. The boy approached Norris with an open magazine in hand and said, "Dad, is this true or is it an ad?"
That story has stuck with me my entire career, and I have always tried to advocate for my clients' customers — even going as far as to say to clients, "It really doesn't matter what you want or even what the agency wants. It's only important what your customer wants." I have not always been the most popular girl in the room.
Today's consumers will get to the truth, because they can — through social media, community and genuine conversation. Brands will be content providers, and they will craft stories that are relevant to a profoundly changed and more sophisticatedly demanding audience.
The old advertising model where brands simply told consumers what they have and why consumers have to have it has given way to brands actually conversing with consumers to make products that are meaningful in their lives. Sheryl Connelly, Manager of Global Trends and Futuring at Ford Motor Company, says that Ford has moved from manufacturing to being a consumer-driven company. And that accounts for the success they are experiencing in the marketplace.
Conversations with customers are happening wherever the communities of brand believers gather, and they are changing the way brands create and market products. Brands are building community not just with consumers, but with supply chain companies as well. Blair Taylor, Chief Community Officer at Starbucks, identifies vendors who share their values and align with them to build leaders in their communities.
Diane Von Furstenberg, Founder and Co-chairman, DVF Studios, also observes that people are just tired of the old BS. And they don't have to take it anymore. She says when she is her authentic and genuine self in her tweets, the response is overwhelming. When she tries to sell something, not much happens. Jack Dorsey, Co-founder of Twitter and Co-founder of Square, concurs.
The social experience is all about content and community. Social is going on when TV spots are airing. Bonn Bough, VP of Global Media and Consumer Engagement, Mondeléz International, shared that the Oreo Super Bowl hit was the result of a carefully architected social media strategy that made the brand ready to respond to whatever the Big Game threw its way. Oreo created a social media command center, so that they could respond in real time to comments and buzz.
Did innovation cause this? Or just enable it? Are we more in tuned with each other today, or have we finally learned that the truth will win out? Either way, it's all good.