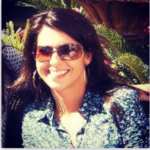 What could possibly be better for agency life than experience? How about a dynamic, outgoing personality to go with it? Geile/Leon Marketing Communications' longtime account service leader, Miranda Warren, just so happens to have it all. And now, the time has finally come to get to know the driving force that has been pushing our G/Lers forward and keeping them in shape for the last 14 years.
"I am a doer and I love projects. I am always doing something," says Warren. Her reason for a career in account service? "I felt I could put those skills to work in an agency setting."
To say the least, 'those skills' have continued to grow since spending some time at her first real-world setting, the Missouri Soybean Association and Merchandising Council. Planting herself there with an internship, prior to graduation from the University of Missouri's School of Journalism, Miranda says she learned a lot and was able to cultivate her essential project management skills.
"I love client work. Seriously. I love being challenged and helping clients solve problems. And, I especially love when we deliver something that exceeds a client's expectations and makes their job easier," explains Miranda. It is that personality, mindset and driven attitude that make such a perfect fit amongst the G/Lers. "I am a people person, so I love that I get to interact with a bunch of different personality types everyday."
Throughout her time here at G/L, the Director of Account Services has enjoyed many great memories. She even recalls what it was like during her first week here on the job, having to take care of a traffic ticket and the so-called embarrassment of having to ask to leave. But, she must have had a good first week in the end, because she still takes pride in calling Geile/Leon home.
Although she does enjoy gaining more and more knowledge in the agency life every day, Miranda credits Pinterest for 'changing her life.' Yes, I did say Pinterest. And of course, nothing beats spending time with her kids away from the office and doing goofy stuff with long-time friends. As only she can say herself, "I do love a good chicken and beer dance."
If you have any dance moves you'd like to show us or reveal to the social world, feel free to share. Videos welcome.