My time during these past few weeks has been occupied much in the same way yours and many others' has. I spend my time at home worrying. The irony is that we are all isolated while feeling the same sense of worry.
Is there going to be toilet paper when I brave the grocery store? Is my loved one going to get sick? Heck… am I going to get sick? And I know I'm not alone.
The word "survival-mode" may be overused (did anyone from Survivor actually risk not making it off the island safely?!), but psychologically, this is where most of the world is at, asking themselves daily, "Are my basic needs going to be met?"
That places me (and millions others around the world) at the bottom of Maslow's Hierarchy of Needs. The Cliff Notes version is that Maslow's Hierarchy of Needs is a psychology model that presents itself as a pyramid, with the idea that needs lower down in the hierarchy must be satisfied before individuals become concerned about fulfilling the needs at the next level up the pyramid. From the bottom of the hierarchy upwards, the needs are: physiological, safety, love and belonging, esteem, and self-actualization.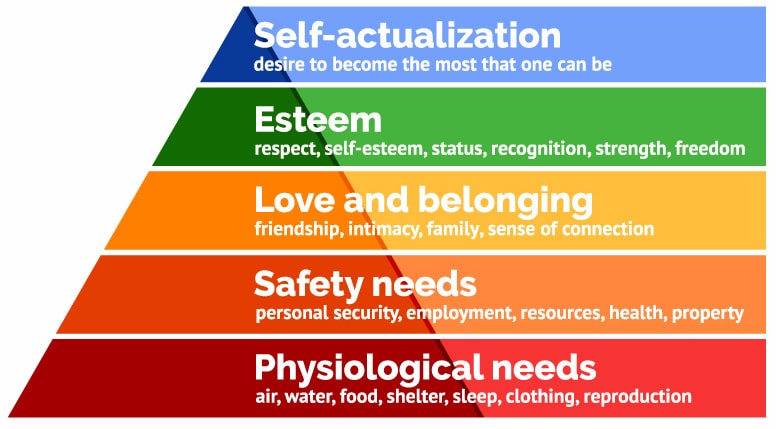 According to the Wall Street Journal, within the last week of March, 6.6 million Americans filed for unemployment. Like I said, millions are at the bottom of this hierarchy. Brands know this, too. Those brands that have been created to serve the top of the hierarchy? Most aren't relevant right now. But that doesn't mean they're out of the game – there's a way that those brands that are normally serving the top needs can connect with people at the bottom.
Brands like DoorDash are not only helping those end users get food, but also aiding those locally-owned restaurants by waiving delivery fees and pick-up order commissions. They are also supporting their contracted delivery people, known as Dashers, by moving deliveries to no-contact, and providing them with free hand sanitizer. And for those Dashers that find themselves sick? They're receiving financial assistance from DoorDash.
Another shift in DoorDash's services that we're seeing: they've partnered with convenience stores nationwide so that they're not only able to provide their customers with food, but also household essentials.
Locally, a St. Louis brand is really changing up their business model to help those in need. Arch Apparel, who defines themselves as "A St. Louis-inspired streetwear brand," announced on Instagram that they will be creating and selling masks to help in this pandemic. They're donating a portion of the proceeds to a local group providing meals to St. Louis health care workers. Additionally, all of these meals will be sourced from local restaurants. A great example of St. Louisans helping St. Louisans.
And to keep the examples coming from our home base here in St. Louis, Anheuser-Busch announced that it will start producing hand sanitizer. The company said they would consult with the American Red Cross and other nonprofit partners to figure out the best places to send the newly bottled sanitizer, using its extensive supply and logistics network to get the sanitizer into production and into the hands of those who need it. This is just the latest effort in the brand's long list of supporting communities during times of crisis.
And in a way, that's the great thing about the economy. At its core, it's designed to meet people at their position within the hierarchy and fulfill their needs. There are probably hundreds of examples of brands shifting to reach people at the bottom of Maslow's Hierarchy of Needs during these difficult times, and that list probably grows by the day.
It's important to listen to your customers, discover what they need and strive to demonstrate how the brand can fulfill their needs. But never in our lifetimes have these needs been greater, so it is inspirational to see the empathetic response from so many brands. We believe that is how we will succeed, by working together and focusing on maximizing your Return on Empathy.