TRENDING NOW FROM G/L
Every Monday morning, the G/L office starts our week by meeting together and updating everyone on new business, old business, this week's needs, last week's successes – all the good stuff. We always take time at the end of these meetings to discuss what is trending now in our marketing and design world. We decided that what we talk about isn't only beneficial to us, but to our clients and followers – so every Monday morning we share our favorite trends with you.
WHAT WE'RE TALKING ABOUT THIS WEEK
Last week, we talked about companies moving ads onto Instagram, a designers project The Urban Type and more. This week, we are talking about grabbing a beer with Anheuser-Busch InBev, Joe Boxer's support for binge-watching shows, Samsung embracing the unboxing video trends, breaking up with IE8, Facebook taking on the video space and an app that reads your facial expressions to save pages for you.
"GRAB A BEER"
If you weren't thirsting for a beer before, you may be after seeing this site. Anheuser-Busch InBev recently launched a digital campaign entitled "Let's Grab a Beer". The site is aimed at promoting the beer industry as a whole. In fact, if you weren't looking for who made the site, you may never know it's from A-B InBev. The site includes infographics, photographs and memes in a Pinterst-esque look and feel. This is a good example to show that your audience wants to hear about the industry, not just about your brand – and ultimately, if the industry benefits then the company does too.

See the website here.
Read the full article from AdAge here.
INACTIVITY MOTIVATION
Joe Boxer is known for its wacky yet clever ads, specifically around holiday seasons. The brand mentions that in a slow time of year, they came up with something to put them back on the radar – it is known as their Inactivity Tracker. A spoof on exercise trackers, this band rewards users for doing nothing. The brand says it encourages slowing down and spending time in pajamas in this crazy world – but does so while showing the quirky personality of the brand. The product is accompanied by a video, a content hub and a PR push.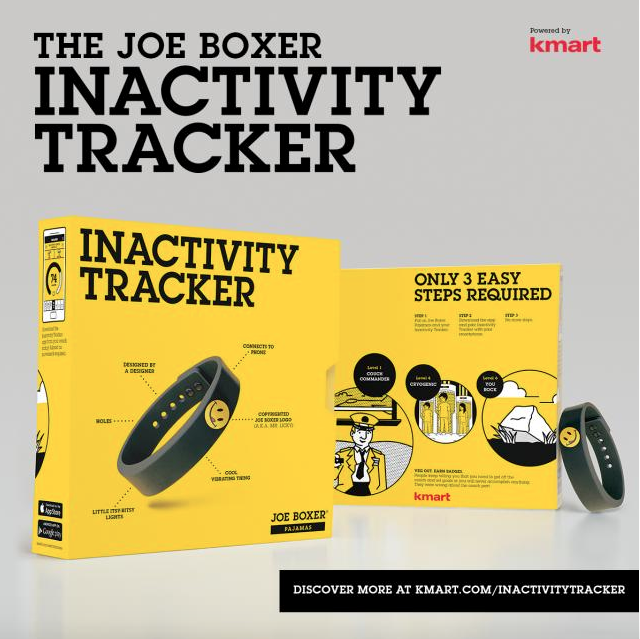 Read more about the product, and how to get it, in the article from AdAge here.
SAMSUNG EMBRACING THE TRENDS
"Unboxing" videos have become wildly popular in the tech world. Consumers record themselves taking their phone out of the box for the first time and reviewing the look, feel and features on camera. Samsung acknowledged that this is a steady trend in the tech world and made new ads out of their own professional unboxing videos. The brand uses each unboxing video to introduce the product and (at least) one specific feature to the viewer. These ads show that Samsung is in-tune to what their tech world is consuming and committed enough to tailor their style of reach to what the audience will already be looking for. Though action packed and filled with drama, the message the ads convey is the same message a tech reviewer at home would post.
Watch the videos:
https://www.youtube.com/watch?v=ll0iK6fIsI8
https://www.youtube.com/watch?t=40&v=NEhhIM6K_2o
https://www.youtube.com/watch?v=efjaZeGFWis
Read the full article from AdWeek here.
IT'S OVER, IE8
I think most of us at G/L broke up with Internet Explorer long ago, but because of a influx of new users and the six year anniversary of IE8, a website to help you realize your worth and relationship needs out of a browser has launched. This is the break-up with your IE8 browser site…and it is harsh. The website walks you through the break up, it tells you why you're ready to let it go or encourages you that your choice to leave is the right one. Once you make your decision, this website has you tell IE8 in 100 characters why it just isn't working out and then these reasons get displayed on the website for everyone to relate to.
Check out some of our favorite break-up statements: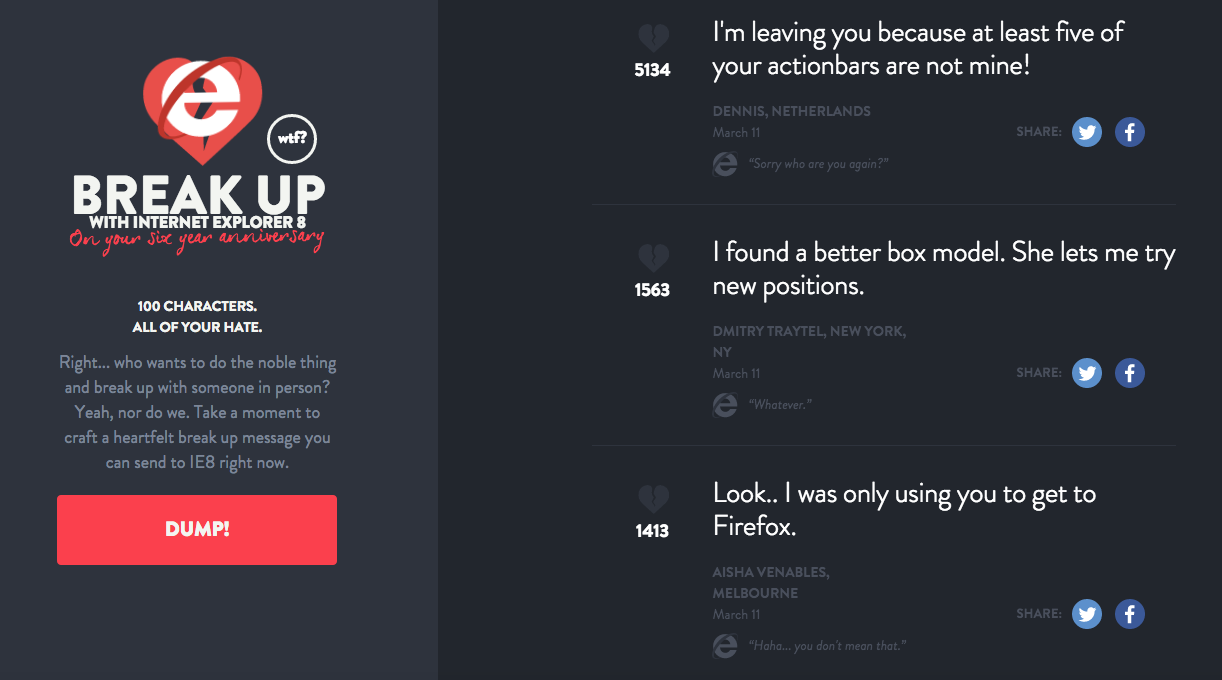 See the website for yourself here.
FACEBOOK IN THE RUNNING
Brands (such as Popsugar, BuzzFeed, Jimmy Kimmel Live, and more) are creating video specifically for use on Facebook, leading to Facebook's transition as a leader in video streaming. This appears to still be unfolding, as there are many thoughts to pre-roll ads, user experience and insights – but marketers are interested in learning more. Facebook targets by age, gender and location among other benefits, so it would be no surprise that brands start investing more in videos tailored to Facebook instead of (or in addition to) YouTube. Facebook has been approaching this from a small and medium size business perspective as well by encouraging them to learn more about the benefits of video uploaded to Facebook and how that performs compared to photos and text posts. In addition to Facebook's push to keep more content within their platform, we'll be keeping an eye out to watch this shift continue to unfold.
Read the full article from AdWeek here.
SMILE SUGGEST: SMILE FOR YOUR FRONT FACING CAMERA
Smile Suggest is an app for your browser that (when turned on) uses your front-facing webcam to detect when a website makes you smile. Once it detects a smile, it saves the page for you that you can revisit later or share with friends. It's a little bit of creepy and awesome at the same time – who knows, it could be the first step to never needing to navigate manually again, like the Xbox Kinect.
Watch the video.
See the website here.
Want to talk these trends with us? Did you see an interesting trend we haven't talked about? Let's chat. Connect with us on Twitter or Facebook.
Did you miss the last trends we shared? See them here.