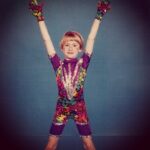 Jen Fuhrman is quickly becoming famous around the G/L agency. But, our newest G/Ler is doing it with a strategic style and something a little different than what you may have expected.
"I'm notorious for consistently clearing an office with a burnt bag of popcorn," she says. The most recent Account Executive at St. Louis advertising and PR agency Geile/Leon Marketing Communications adds, "Every microwave is different."
Every agency is, too. And so far, so good. Since joining the G/Lers in early August, Jen has brought an integrated mind for strategy and execution to the agency, and no burnt popcorn. Yet. Paired with Jen's excellent microwave skills—not to be confused with the can't-get-enough finger foods Miranda whips up for Tiger Tailgate Fridays—comes a sincere familiarity and experience working with healthcare, hospitality, manufacturing and agriculture industries.
Jen's fun-loving personality came at us straight from the 3-1-4, born and raised right here in Florissant with her two sisters. From Rosary High School to SIUE, she eventually moved on to begin her professional career at Think Tank PR, Marketing & Design and later Marketicity.
When asked what prompted her move to the ad biz, Jen responded with the obvious answer—Chick-Fil-A. A true witness to effective strategy and copy, she told of how she was driven to "Stop, drop and roll out of bed" for the new buffalo chicken breakfast sandwich. And as they say, the rest was history. Why did it spark her interest? "I was fascinated at what motivated me as a consumer, so I decided to pursue a career in which I got to research, plan, implement and creatively motivate others," she says. "I was so fascinated about the inter-workings of a successful agency."
The account life seems to be a perfect fit. As a volunteer committee member at Young Friends of St. Louis Children's Hospital and digital media volunteer for Gateway Pet Guardians, Jen enjoys keeping busy, staying organized and aspiring to help others. It could be work or sheer enjoyment—client-to-client, friend-to-friend—she has a way of rubbing greatness on those around her.
Now Jen, her husband and her two boxer "children" call South City St. Louis home—cheering and keeping up with their beloved Cardinals. With Soulard Market within reach, she can't top spending time around town with sisters and friends and grabbing some gluten-free lunch at Nora's. Once the sun goes down, beware. She's known to dream of Johnny Castle and cut a little rug from time to time.
As a true account exec, Jen is always looking to grab a bite to eat with people. If you have any suggestions for gluten-free dining around Clayton, comment and let us know.

Beer-Thirty Drink of Choice: Woodchuck Cider