If you follow our Facebook page, you may have seen images of my latest trade show adventure. However, there was something slightly different about this client work—it was the furthest I have ever ventured outside U.S. borders. Looking back, it's not very often that people have such an amazing opportunity to travel halfway around the world, and I was excited about the invitation to join our client in South Africa.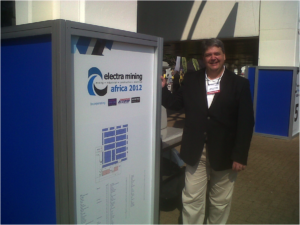 All-in-all, I have been to a dozen or so other industry trade shows on behalf of clients with, generally, a common objective: Secure positive news media coverage for the client's products and strategy. But like I said, this was different. The client was Harris Products Group, a leading global manufacturer of gas-apparatus products. And the event was the Electra Mining Show, among the world's largest trade shows catering to the mining industry—one of Harris' largest markets.
The trade show was held in the world's epicenter of mining, the obvious choice—Johannesburg, South Africa. For those of you unfamiliar with world geography, Johannesburg is located a bit south and east of St. Louis—by about 8,800 miles. It was a trip that would require two airplanes and a little more than 20 hours of travel to get there.
Overall Travel Rating: Surprisingly, fairly uneventful — 8 of 10
Hotel / Lodging / Hospitality: Interesting — 8 of 10
Overall Dining / Entertainment: Good experience — 8 of 10
Beer / Wine / Spirits: "Castle Beer"— 10 of 10
Travel Preparations for Africa
One might think that traveling to South Africa requires quite a bit of preparation and packing. For the most part, I would say that is true—so you can fully enjoy what the culture and people have to offer. I was lucky enough in my medical preparations to need only one shot before traveling, because my physician had scheduled me a routine check up prior to my adventure, by coincidence. Thanks to this, MMR, tetanus and whooping cough were all up-to-date, and I was clinically ready to travel.
Legally ready was a little different. Believe it or not, I had to obtain my very first passport for my trip. Surprisingly, this has become an almost pain-free experience. So, before I received official confirmation of my travels, I followed the simple procedure of obtaining my own passport. From the online paperwork, to a trip to Walgreens for my passport image and the local public library—I was impressed.
 Then came everyone's favorite part…packing. Knowing that my schedule was pretty much set-up for my trip ahead-of-time made this part of preparations easier, as well. For another step in the packing/preparing process, I did some research on the options for cell phone usage in a different continent, and ultimately decided to rent a cell phone through National Geographic. For a small weekly fee and the ability to purchase minutes as needed, I highly recommend this as an option to keep communication channels open between countries. And I must say, keeping necessary medications in a plastic bag and having a couple Gatorades on-hand proved advantageous along the journey.
Actual Traveling Experience—flight, taxi, hotel, etc.
Finally, 20 hours later, two planes, one crew change and one refueling—I had made it to my ultimate destination. The flight itself went by smoothly, following a couple naps and watching a few TV episodes. Wouldn't ya know, they even allowed us to stretch our legs and walk around the plane during the crew change in Sudan, so long as we didn't de-board. Oh, and the new crew made sure the plane smelled good—walking through the cabin and unleashing handheld air fresheners on everything in sight. Needless to say, the breath of fresh air that came with the cabin doors opening in Johannesburg was greatly appreciated.
Without the familiarity of where to go, it was surprisingly easy to find my luggage and figure out where the taxi service was. But, I later found out that the taxi driver charged me $100 U.S. for a ride that would typically only cost around $50. Not to worry, the driver let me smoke a cigar during the 30-minute ride.
As for the hotel, it was literally located inside an amusement park—surrounded by cobblestone streets filled with Mercedes and Volvo cars on the wrong side of the road. Throughout my trip, I was consistently well received by the friendly locals and treated politely.
The Business / PR Approach—The "Tricks of the Trade"
The first thing I noticed about the convention/expo center where the show was being held was that, unlike so many of these types of venues in the U.S., this one made use of a massive outdoor courtyard—to provide access to the "halls." This was a stark and appreciated difference in comparison to trade shows here. It's now spring in Johannesburg, and the weather was beautiful. So, it was quite nice to be able to spend so much time outside and meet with people from all over the world.
The media relations seemed very similar to what goes on here, but with subtle differences. The equipment and machinery were so large in size, that they demanded every square foot of space available at the convention center.
I tried to be as open-minded as possible going in, and remain flexible enough to go with the flow of the show. The trick, whether you're in Chicago or Johannesburg, is reaching out and making real contact with media folks—before the show begins and in person at the venue. Often, you just have to go looking for them at the venue. These writers receive lots of story and interview pitches (one told me as many as 150 per day), so it's imperative that you find them and make your pitch quick and succinct. Industry writers go from booth to booth at a very quick pace so you need to be prepared to talk about something that is actually newsworthy.
 Big Harris News
Harris had some news to make, and G/L attracted several writers from our key publications list to sit down with CEO David Nangle for interviews. We were successful in shedding light on the success of their strategy announced earlier in the year with stories published in gasworld and Mining Weekly, among others. Harris was able to grow in South Africa and expand their distribution channel by severing a contract with their former product distributor. Since this decision, Harris has increased their sales to South Africa by three times what they were in 2010-2011.
Preparation for your personal travel and business objectives makes all the difference—the longer the trip, the more necessary. What's more, squeaky wheels do indeed get the grease, even if you have to travel halfway around the world to get it! What's your best advice for international business travel?