In honor the 30th anniversary of when we first hung our shingle, we have been revisiting some fond memories over the past few months. However, since our founding in 1989, there have been plenty of stories of brands who have bottomed out. We explore some of our favorite stories from the past 30 years of brands dusting off the dirt and getting back on their feet in this series, the Dirty 30, a three-decade retrospective of redemption.
So far we've seen Exxon in the aftermath of an oil spill, watched the origin story of Jack Box, reunited Carl Hardee Sr and Carl Hardee Jr, and discussed the Firestone blowout. With so many of us grumbling about their busy flights during the Thanksgiving week, we're going to fly the not-so-friendly skies with JetBlue.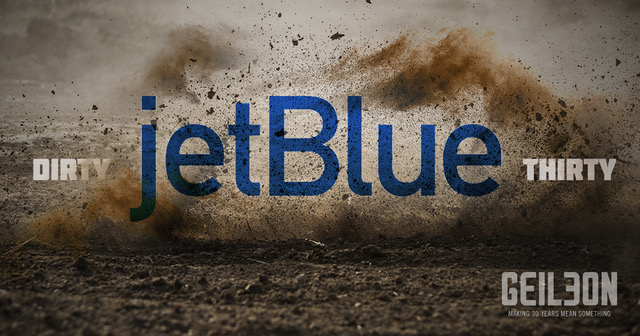 In 2017, a number of JetBlue flights waiting to take off were delayed due to an ice storm. Many for up to 11 hours. Surely anyone who has suffered through a tedious delay is already feeling that despair of being stuck in the airport, but this was even worse. 
The passengers weren't even allowed to leave the plane even though the terminal was just a short walk away. 
As the snacks dwindled and the sanitary conditions in the restrooms degraded, a contingent of passengers demanded to leave, only to be denied. Finally, many, many hours later, official airport vehicles arrived to free them from their captivity and escape to the terminal. 
In response to the ensuing conversation regarding what rights a passenger had during a flight delay, JetBlue proactively issued what was known as the Passenger's Bill of Rights. It included a system of reimbursement for delays and a limit to how long a passenger would be forced to stay on the tarmac during a delay. The passengers on the plane received reimbursement for their troubles and apologies from the airline. Even though there are some things those passengers who were stuck for 11 hours will never unsee, at least they were pioneers for the rights of future flyers.
And if need something to read while waiting to board your flight, check out past installments of Dirty 30:
Firestone's Consumer Trust Goes Flat
Carl Hardee Sr. Puts Junior in His Place
Jack Comes Back to Save His Company