In honor the 30th anniversary of when we first hung our shingle, we have been revisiting some fond memories over the past few months. However, since our founding in 1989, there have been plenty of stories of brands who have bottomed out. We explore some of our favorite stories from the past 30 years of brands dusting off the dirt and getting back on their feet in this series, the Dirty 30, a three-decade retrospective of redemption.
After revisiting Exxon's disaster in Valdez, then exploring the troubled origins of Jack Box, we bite into another burger bungle in this week's Dirty 30 with the troubled family relationship of Carl's Jr. and Hardee's.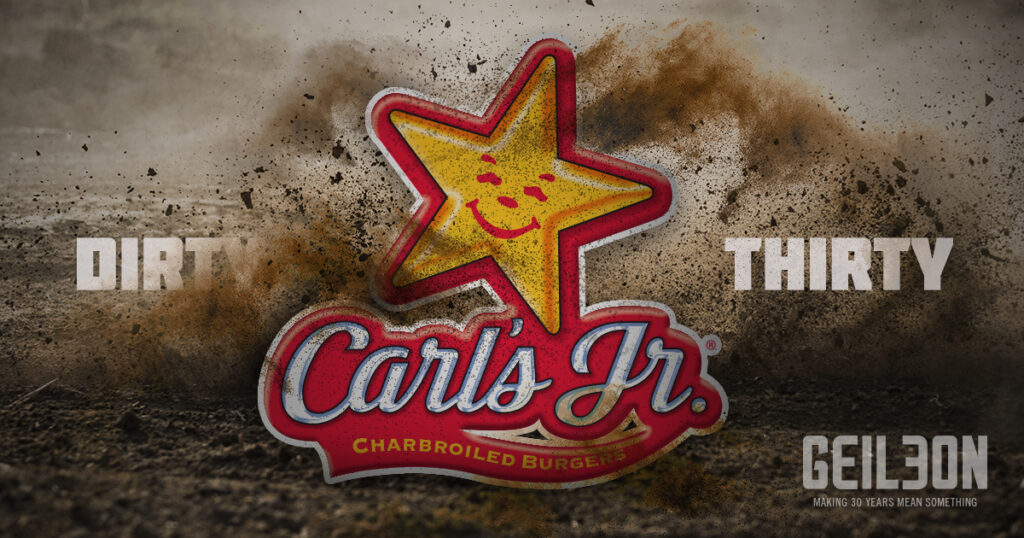 Jason Marker was at the helm of KFC during its wildly successful campaign featuring a Colonel Sanders spokesperson played by a rotating cast of comedic actors. After that success, Marker left to accept the position of CEO at CKE, the holding company for Carl's Jr. and Hardee's. Marker explained that, as his first marketing initiative as CEO, he wanted to transition away from the erotic burger ads that had preceded him. He was determined to transition CKE's marketing efforts from targeting young, thirsty guys to young, hungry people.
To kick it off these rebranding efforts, CKE created a commercial that not only took a number of humorous shots at the brand's previous marketing efforts, but also consolidated the two brands into one. Using a familiar tack, much in the same way as the reinvented Colonel Sanders, Carl Hardee Sr. played the brand's patriarch returned after a 15-year hiatus to take the company back from his party boi son, Carl Hardee Jr. Dad banished the company's sex-sells mentality so they could get back what made people fall in love with them in the first place: well-made food with great ingredients and a healthy side of pride.
However, just a year later, the two brands are diverging to a degree unseen since Carl's Jr. purchased the Nashville-based Hardee's to form CKE. During the co-branded year of togetherness, research found that the Western chain of Carl's Jr. had a core customer base that favored the restaurant's bold, in-your-face flavors for a late night snack, leading to the brand's new "Big Taste You Can Feel" campaign.
At the same time, Hardee's, based in the Southeast and South, did a significant amount more of breakfast business than their left-coast counterpart and realized their core customer base valued authenticity, as seen in their new "Tastes like America" campaign.
It remains to be seen if this divide-and-conquer strategy will provide the boost that CKE is searching for in the hyper competitive better-burger market, but at least everyone can agree that bikinis and burgers no longer mix.
The thing about a brand crisis is that each one is different. While so much has changed over the past 30 years that Geile/Leon has been around, there is also so much that has remained the same. Being forthright, proactive and responsive to customers' needs is a timeless art, but with information traveling so much more rapidly and consumers being more informed than ever, effective crisis management is now more important than ever.
Stay tuned for the next installment of the Dirty 30, and check out our previous Dirty 30s:
Exxon Goes Tone Deaf in Valdez