Product videos on retailer sites lead to greater sales. I'm guessing that's why retailers like Home Depot®, Lowe's®, Northern® Tool and others are encouraging their suppliers to provide video and other assets. We recently had the opportunity to jump in the retail video phenomenon for our client, Lincoln Electric, a major manufacturer of welding products and related accessories.
We work with Lincoln Electric's WTCA division, the retail side of the business. We produced several product videos, 360° videos and more than 150 still photographs which will be posted on a variety of retailer sites, big box stores, farm/ranch dealers, etc.
While my agency has produced many videos and TV spots throughout our 27 years, this was our first where the director and videographer weren't able to directly watch the shot without eye protection.
I got a chuckle out of seeing our team in welding helmets as they directed the shots.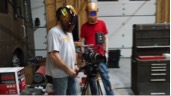 Our client sells through a variety of retail outlets but not all carry the same helmets, clothing and equipment. So while shooting the videos, we had to keep track of the clothes and other items used by the talent so each video contained only the products sold by each retailer.
Welding is one of those specializations where a true welder would be quick to catch any discrepancies regarding technique, skill level or applications that a novice welder like me would not notice. So we sourced a professional welder who now teaches high schoolers the skills of the trade. Our clients at Lincoln Electric were so impressed with him and his knowledge that they donated helmets and gloves to the school as a way to help his students. Thank you Lincoln Electric!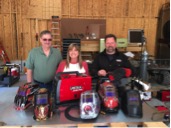 Alongside the product videos, we produced 25 360° videos that allow customers a view of the entire product. It's amazing what requirements retailers have for these. Some are actual videos and others are up to 27 still shots stitched together. To accomplish these, our videographer, Steve Parisi from Frame Four Studios, built a turntable strong enough to hold the equipment, some which weigh hundreds of pounds.
PortaTorch – Lincoln Electric
To view more examples in this series, visit Retail Product Videos.
This was an amazing project for a great client that appreciates quality work. If you are needing videos to support your retail or distribution sales, please give me a call – Dan Diveley, 314-727-5850 or email me at [email protected] or fill out the form below.
[gl-hs-form form_id='1863abe3-c1e4-43d0-a298-c7b132f8ce03′]