The iconic St. Louis attraction, Grant's Farm, has experienced major shifts in the past few years. The park closed in 2020 because of the pandemic, and in Fall 2021, the Busch family, which has owned the property since 1903, took over the operations from Anheuser-Busch.
The Busch family ownership group was faced with the challenge of restoring attendance to pre-pandemic levels as well as finding new revenue streams to allow them to continue the Grant's Farm tradition of offering free admission to the public. They also needed to ramp up staffing in time for the season opening at the end of April.
The PR strategy has been to invite media to showcase the fun animal interactions, activities and history that visitors can experience at Grant's Farm. We've focused on what's new, such as private, behind-the-scenes tours and expanded menus and music, while also reassuring the public that some very important things haven't changed:  admission is still free, and you can still enjoy complimentary beer samples and see the Budweiser Clydesdales. Reporters have enjoyed sharing that good news with their viewers, listeners and readers.
We engage in media outreach to generate coverage year-round, even when the park is closed. Off-season stories included winter animal births, animals predicting the Super Bowl winner, hiring fairs and spring break "staycation" tours.
Geile/Leon generated approximately 120 media stories for Grant's Farm over a 10-month period, or an average of 12 stories per month. The coverage included TV, radio, print and online news media. The public relations program has considerably impacted attendance and ticket purchases. Following media stories in mid-November for the holiday lights display, people began buying tickets almost immediately. In the end, Grant's Farm achieved a 28% increase in attendance compared to the prior year.
Media coverage boosted ticket purchases for the private tours, and stories about a hiring fair and repeated mentions of job openings in media stories helped the park hire more than 200 seasonal workers over several weeks. Grant's Farm President Doug Stagner said "Every time we have a media story, traffic to our website goes up, so we know the PR program is working."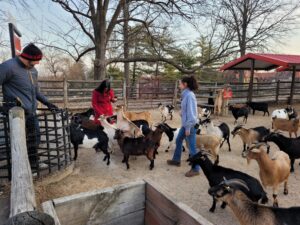 Find out what's new at Grant's Farm!